By Kris Perry, Executive Director of the First Five Years Fund

513 state legislators
50 states
2 major parties

Add them all together and what do you get?
One conclusion: the time for Congress to invest in early learning is now.
State legislators from every state in the country urged the Congressional budget conference committee to prioritize investments in early learning in a letter delivered to conferees. With committee members poised to come to a decision this week, this letter is a powerful reminder that early learning enjoys broad bipartisan support and is a common-sense solution to our nation's monetary and skills deficits.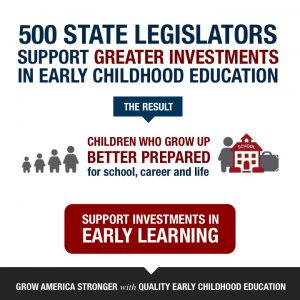 At the state level, red and blue states alike have long dedicated funding to expand access to early childhood education to build the stronger families and more talented workforce on which our country relies. Republican and Democratic state legislators recognize the power of early learning to help improve education, health and economic outcomes in
their states.
By closing the achievement gap, boosting school achievement and reducing the need for special and remedial education, high quality early learning programs reduce social dependency and remediation programs that cost far more in later years.
But states can't do it alone.
Federal investments in early childhood education are crucial. State funding can only serve afraction of the American children in need. Most working parents can't afford high-quality preschool for their children, and fewer than three in 10 four-year-olds are currently enrolled in high-quality preschool. Factoring in the 58,000 Head Start spots that were eliminated in the devastating sequestration cuts, fewer children have access to early education today than last year.
The state legislators who signed this letter understand that there is growing demand for early childhood education from parents, business leaders, the faith-based community, educators and law enforcement leaders. My colleagues at the First Five Years Fund and I applaud them for taking vital steps to support what our children need to thrive while giving voters what they want. We congratulate the local, state and national partners who worked together to demonstrate the collective power of the early learning field. And we urge Members of Congress to do the math and join these state legislators in their support for greater investments in early childhood education by supporting early learning in budget negotiations and co-sponsoring the bipartisan Strong Start for America's Children Act.
This is only the start of ensuring our children are prepared to be successful in a competitive 21st century economy.