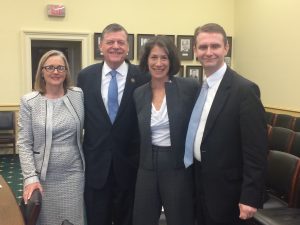 This morning, the House Appropriations Subcommittee on Labor, Health and Human Services and Education held a hearing on the benefits of investing in early childhood education. Included among the expert witnesses asked to testify was Diana Rauner, president of The Ounce of Prevention Fund (FFYF's parent organization). Walter S. Gilliam, director of the Edward Zigler Center at the Yale School of Medicine, and Debra Andersen, executive director of Smart Start Oklahoma, also spoke at the hearing.
Speaking in front of a bipartisan group of legislators, Rauner said, "I came to the field of early childhood because of concerns about the huge social and economic cost of educational inequities." Adding, "And I chose to focus on early childhood development because investments in the first years of life are simply the most efficient and effective ways to develop human capital. With the right investments, human capital development can provide great economic and social gains for individuals and society."
We were pleased to see and hear such positive and bipartisan support for early childhood education at today's hearing. Representatives from both sides of the aisle showed understanding of the overwhelming benefits that investing in kids from birth to age five provides. "Research shows that quality early childhood education improves children's school readiness.  Evaluations of Head Start, state pre-K programs, and model early childhood programs have shown positive impacts on cognitive skills for children entering kindergarten through the early elementary years," said Rep. Tom Cole (R-OK). Rep. Rosa DeLauro (D-CT) added, "If we are serious about making early childhood programs available to all needy children, and maintaining our competitive edge on the global stage, we must be willing to fund even bigger investments."
This morning's hearing comes at a crucial moment for early education. Today, the Senate Health, Education, Labor and Pensions Committee begins consideration of  the Elementary and Secondary Education Act (ESEA) authorization rewrite, which includes a number of important provisions to support state and local efforts to integrate early childhood education.  Senators are prepared to debate nearly 90 amendments to the bill – including a bipartisan amendment, co-authored by Senators Murray and Isaacson, which would create a dedicated funding stream within ESEA for early childhood education.
Also this week, the Senate will vote on a two-year extension of the federal home visiting program, known as the Maternal, Infant, and Early Childhood Home Visiting (MIECHV) program.
Click here to read Rauner's prepared testimony she delivered this morning. You can also watch the hearing in its entirety online here.