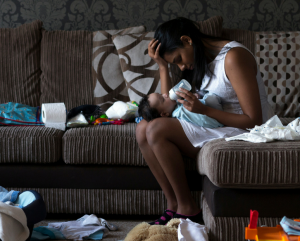 Bringing an end to the opioid crisis will require a coordinated, comprehensive effort that is inclusive of home visiting, a highly effective, evidence-based early childhood intervention providing personal support for families from pregnancy through their children's first years of life. Opioid addiction has had a swift and deadly impact on communities, whether they be rural or urban, economically disadvantaged or affluent. During the Ounce of Prevention's Seventh Annual Home Visiting Summit, attendees gathered for a final session dedicated to discussing the national opioid crisis, and the positive effects home visiting is proven to have on at risk families.
Coordinated, comprehensive systems of care are vital for positive public health outcomes because they bring together and harness key players and supports that can more effectively extinguish the threat and spread of an epidemic. Home Visiting is part of a system of care that also includes schools, hospitals, public health nurses, foster care and more. The Maternal, Infant and Early Childhood Home Visiting Program (MIECHV) is a crucial source of funding support that enables states to serve eligible families. Access to home visiting saves lives, and it changes them for the better. Through the program's coordination with community resources, participating in home visiting is shown to have a positive impact on maternal and newborn health, school readiness and achievement, as well as family economic self-sufficiency.
BREAKING NEWS: For the Second Time This Year, House Sidesteps Expired Home Visiting Program Proven to Help Lift Families Out of Poverty
Dr. Richard McGourty, a Senior Consultant at Vantage Leadership Consulting, led 'Building and Sustaining Comprehensive Systems of Care in the Midst of the Opioid Crisis', which included a discussion with local providers leading work at the intersection of home visiting, prevention and the opioid crisis. During this session Gail Barber, M.S. W. discussed providing technical assistance and consultation on system reform addressing child welfare cases involving parental substance abuse leading to involvement with the court in Iowa. Rhoda Blankenship, a Registered Nurse/Public Health Nurse, is the Maternal Child Adolescent Health Director for the County of Santa Clara Public Health Department in California, also a participant in the session. Panelist Vivian Gettys has over 20 years of nursing, public health and program administration experience, and currently serves as the Prevention Division Director at Capital Area Human Services District (CAHSD), the regional authority for behavioral health and developmental disability services as part of the Louisiana Department of Health system. While all serving in different roles in their communities, each emphasized the necessity for meaningfully leveraging home visiting – such as including representatives of home visiting programs in opioid prevention initiatives – in order to make a real impact on real lives at stake.
Speakers at the Ounce of Prevention's Seventh Annual Home Visiting Summit reviewed the impact of the epidemic on young children, which can range from addiction in newborns to children entering the foster care system as a result of families being unable to support them. These examples illustrated the value of meaningfully coordinating community services as part of an across-the-board response to the opioid crisis. Additionally, adverse childhood experiences such as these can have a negative impact on children's health and school engagement for years to come. However, by providing families access to home visiting, which includes prenatal screening and referrals to other vital community services, families can access and bolster supports for their children that buffer them from adverse childhood experiences.
Funding for MIECHV expired on September 30, 2017, yet the opioid crisis continues. And just last night, MIECHV reauthorization was left out of the extenders package that many believed Congress would use to reauthorize it.
We know home visiting produces positive outcomes, and is particularly vital prevention/intervention strategy in combating the national opioid epidemic. It is imperative that MIECHV is funded with the continuing resolution in order to ensure the life-saving work of home visiting across the country continues.