All children deserve a strong start in life, yet almost half of young children in the United States live in or near poverty. Research shows that kids living in poverty are less likely to be healthy, do well in school, and succeed later in life.
Pediatricians can now be a part of the solution. For the first time, the American Academy of Pediatrics is recommending that pediatricians screen children for poverty during routine visits. This recom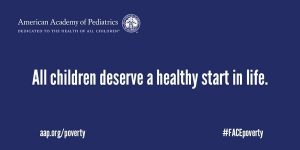 mendation comes on the heels of the Academy's new policy statement, which studies the research on the harmful health and development effects of child poverty and provides key solutions such as tax policies, access to comprehensive health care, and early childhood education.
"Pediatricians are dedicated to preventing illness in children and intervening early when there is a problem," said James Duffee, MD, MPH, FAAP, one of the authors of the policy statement. "Because poverty so strongly influences children's health and development, pediatricians are asking about poverty-related stress so we can connect families to resources in their communities."
The Academy advocates to expand anti-poverty and safety net programs including those who provide access to early education, such as Head Start, and Early Head Start, quality child care and more. These programs provide educational, nutritional, health, and social services.
In addition routine check-ups, the Academy has released a new tool for parents to detect development delays at home. Parents are encouraged to use the website to learn more about the physical development delays and use the information to start a conversation with their child's pediatrician.
Read more about the American Academy of Pediatrics' New Anti-Poverty Initiative here.