On Tuesday, our friends at ZERO TO THREE hosted its second annual Strolling Thunder advocacy day, where babies and theirs to families descended on Washington to meet with members of Congress. Their message was simple: Think Babies! Over 150 lawmakers and their staff heard from families from all 50 states about the need to make infant and toddler care a national priority.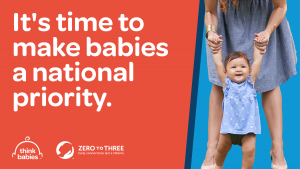 "As families from around the nation created a tornado of activity in the halls of Congress, both babies and parents made their voices heard and policymakers from both sides of the aisle listened," ZERO TO THREE said on their blog. FFYF was proud to be a national partner for this wonderful event.
Overwhelming bipartisan support on Capitol Hill for early childhood education has remained strong in recent years, with Congress increasingly prioritizing investments in early learning and care programs. FFYF and our advocacy partners are working hard to ensure lawmakers strengthen support for programs for infants and toddlers.
The latest edition of FFYF's resource, "Congress: Bipartisan Champions for Early Learning" provides a snapshot of Congress's bipartisan track record to date showcasing the legislation enacted and updated funding levels for programs supporting our nation's youngest learners.
Read more about ZERO TO THREE's Strolling Thunder event here.