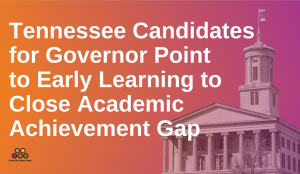 NPR affiliate station WKNO in Memphis, TN asked all of the candidates running to be governor of the Volunteer State about the best way to close the achievement gap that exists in Tennessee.
Of the six major Republicans and Democrats in the race, there was near unanimous agreement on the solution: quality early childhood education.
WKNO asked the candidates the following question: Testing shows that white students in Tennessee are outperforming black and Hispanic students. What are the first steps you'd take to close the "achievement gap"?
Click here to see the answer each candidate gave on the WKNO website.
Tennessee already has a strong bipartisan record of working to strengthen its early learning opportunities. Less than a year after a Vanderbilt University study questioned the efficacy of Tennessee's voluntary statewide pre-K program, lawmakers doubled down on their investment in the program by putting a heavier focus on quality as part of an overhaul of the state early learning system.
Since the Vanderbilt study's release, the state's education department has been exploring how to improve the quality of pre-K classrooms.
"We know the findings from the 2015 Vanderbilt study are real, and we've got to take those study findings seriously," Education Commissioner Candice McQueen told reporters. "We have made changes to the VPK application to focus on quality and ensure we are funding programs that are high quality and serving students who most need this strong start."
Tennessee could have abandoned its program after the landmark Vanderbilt study came out. But instead, the state doubled down to raise the quality of the program and ensure the state is getting the greatest return on its investment.
Republicans and Democrats in Tennessee and across the country recognize that the best way to close the educational achievement gap that exists in our nation's schools is by ensuring children have access to high-quality early education so they show up to kindergarten ready to learn.