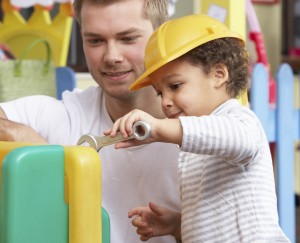 Moments ago, the U.S. House of Representatives passed the Every Student Succeeds Act (ESSA), which includes historic support for early childhood education.  The bill now heads to the U.S. Senate, which could vote on the measure as early as next week.
The First Five Years Fund strongly supports the ESSA, and we encourage the Senate to approve the measure as quickly as possible.
The ESSA's Preschool Development Grants program will provide invaluable support to states, communities, and programs working to prepare low-income children for Kindergarten and their later development and learning. The program's comprehensive needs assessment and focus on promoting close collaboration within communities, including leveraging existing State Advisory Councils on Early Childhood Education and Care, will ensure existing federal, state, and local resources are used effectively to promote quality and parental choice. Coupled with the program's other core provisions, including encouraging thoughtful strategic planning and promoting sharing of best practices among early childhood education program providers, will make a positive difference for the nation's youngest learners and their families.
FFYF also appreciates the ESSA's emphasis on encouraging greater early learning and elementary education alignment. The ESSA will meaningfully support state and local efforts to strengthen standards alignment; enhance local flexibility and decision making by making early learning an allowable use within important ESSA programs; support early childhood focused professional development for elementary teachers and school leaders; and appropriately calls on states and districts to evaluate their local needs and embed early learning within their Title I plans. These and other early childhood provisions will ensure states and communities take a holistic and impactful approach to meeting young children's needs.
The overwhelming research demonstrates early learning's powerful impact on kindergarten readiness rates, academic outcomes, and later life success. Governors across the country – Republicans and Democrats alike – have made early childhood education a top priority. The National Governors Association's (NGA) endorsement of ESSA marks the first time in 20 years that the powerhouse organization has endorsed any piece of legislation.  AND American voters want to see a greater federal investment supporting these state efforts on early learning.
Stay tuned for updates and developments over the coming days.