Early childhood education opponents are upping their efforts in the wake of federal early childhood initiatives such as the recently introduced Strong Start for America's Children Act.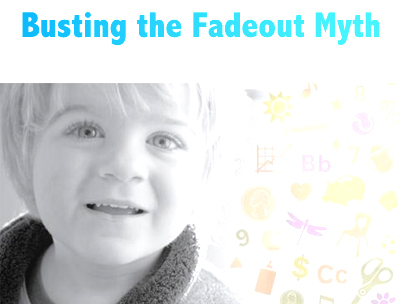 Unfortunately, they're touting the same tired, debunked lines that critics have trotted out for years. Today we set the record straight about one of the most common myths cited by critics of early childhood education – that the gains made in early childhood education disappear by third grade.
What is the Head Start Fadeout Myth?
Head Start Fadeout, a common argument against investing in early childhood education, is based on a highly selective read of research findings found in Head Start evaluations and, to a lesser extent, the Perry Preschool project.
Critics argue that gains made through early childhood education disappear by the third grade. They acknowledge that disadvantaged children who received early education arrive at kindergarten ahead of peers who did not, but use third grade evaluations to claim there is no lasting effect to justify the investment.
There is no fadeout from quality early childhood education
A measurement of progress in the third grade is not a measurement of life outcomes. It's simply a snapshot in time—and an incomplete one at that.
Research from many studies—including those cited by fadeout critics—overwhelmingly show that the benefits of early childhood education become more evident throughout schooling and adult life. There is no fadeout; there is constant, steady movement into upward mobility.
Disadvantaged children who receive quality early childhood education are more likely to persist in school, enjoy better career outcomes, higher wages and healthier lifestyles. These findings can be found in analysis of the Perry Preschool Project and Abecedarian in the United States, as well as the British Cohort Study in Great Britain, all of which are randomized control studies with longitudinal data that spans upwards of 35 years.
We'll take 35 years of evidence over three any time.
The fadeout myth comes from an incomplete read of data and a narrow view of what constitutes success.
For example, the Perry Preschool Project has been criticized for not permanently increasing IQ among the treatment group. IQ gains that are evident at kindergarten among the treatment group tend to equalize with the control group during schooling years.
However, IQ is not the only measure of success in an individual. Nobel Laureate Economist James Heckman found that the social and emotional skills learned through early childhood education were the major drivers of success in school, career and life among the Perry treatment group, who far outperform the control group in adult outcomes.
Similarly, the 2012 National Head Start Impact Study shows achievement among the treatment group equalizing with the control group by third grade. In this case, the Impact Study was flawed because many in the control group were allowed to attend other preschool programs, including Head Start programs in other locations. We may be seeing parity here because we're comparing children with similar experiences.
Heckman says that using the Head Start Impact Study to claim that early childhood education is ineffective is "a generalized conclusion that is neither thoughtful nor accurate." (Read more of his analysis here.) Heckman also finds that "Head Start graduates tend to be more persistent in their education, more inclined to healthy behaviors, and less inclined to be involved in criminal activity."
Finally, for a less academic, more humorous and incredibly spot on-critique of fadeout, you have Jon Stewart's analysis of Head Start haters. As Stewart would say in his definitive New Jersey idiom, "Fadeout? Fuggedaboutit."