NEW ANALYSIS: Pandemic Could Cost Typical American Woman Nearly $600,000 in Lifetime Income: "According to an analysis for Newsweek by economist Michael Madowitz of the Center for American Progress, a typical woman earning a median wage of $47,299 before the pandemic stands to lose more than a quarter of a million dollars in income over her lifetime, assuming she returns to full- time work by 2022; if she's out until 2024—that's how long the consulting firm McKinsey forecasts it will take for women's employment to get back to pre-pandemic levels—those losses could rise to nearly $600,000. For an average college-educated woman (median income: $62,140), the potential losses grow to $346,000 after two years out of the workforce and more than $785,000 after five years. And for those who were making a six-figure salary pre-COVID, the losses could top $1 million or more." Read more from Newsweek here.
NEW BILL TO ADDRESS CHILD CARE CRISIS INTRODUCED IN SENATE: Yesterday, members of the Senate Finance Committee joined Chairman Ron Wyden (D-OR) in introducing the Rebuilding a Better Child Care Infrastructure Act, which seeks to expand access to high-quality, affordable child care, especially for families living in child care deserts. To close the gap in child care availability and affordability for families, the bill would increase annual mandatory funding for the Child Care Entitlement to States (CCES) to $10 billion per year and create a new, $5 billion per year permanent grant program to improve child care supply, quality and affordability, particularly in areas that lack options for affordable child care.
CHILD CARE INVESTMENTS AND FUNDING INCREASES IN WHITE HOUSE BUDGET: Recent reporting from The New York Times indicates President Biden's full FY2022 budget request to Congress will include child care investments previously introduced in his American Jobs Plan and American Families Plan. Additionally, the budget is expected to include important funding increases for federal early learning and care programs.
HOW THE PANDEMIC IMPACTED CHILD CARE COSTS FOR FAMILIES: Over the course of the COVID-19 pandemic, child care providers who were already struggling to keep their doors open were pushed to the brink of collapse, forcing costs up for families and requiring Congress to take action to prevent a complete collapse of the child care system. According to data released by the Center for American Progress, before the American Rescue Plan relief was distributed to states, the cost of center-based child care jumped by 44%.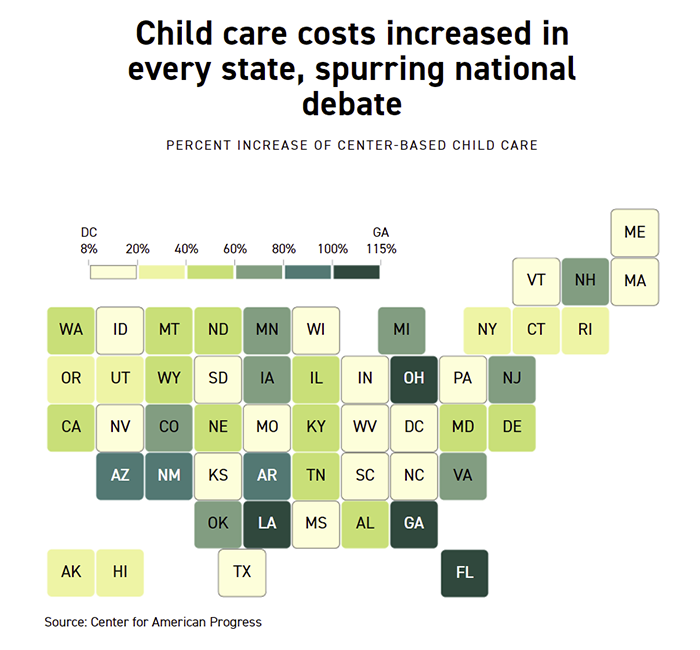 Building a Child Care System That Allows Parents to Choose the Best Options for their Family: From center-based to home-based care, classrooms and church basements, parents rely on a range of options for the care and education of children before kindergarten. Since children are born learning, anywhere kids are receiving care is a place for learning, regardless of the physical location or whether it is called day care, child care, preschool, or pre-k. Now, as policymakers work to address America's child care crisis, it is essential that we build and invest in a strong early learning system that allows families to choose the program or provider that meets their needs. FFYF has put together a detailed explanation on the different child care options that families rely on.
ICYMI: The Economic Impact of Child Care Breakdowns: Underscoring the importance of high-quality, affordable child care for America's workforce, data from U.S. Chamber of Commerce Foundation reveals states are missing out on billions of dollars in economic activity as a result of breakdowns in child care. Read the analysis from Iowa, Idaho, Mississippi, and Pennsylvania here.
WHAT WE ARE READING:
NYT: The Pandemic Created a Child-Care Crisis. Mothers Bore the Burden.: "This generation of women had achieved what no other had. They were part of a monumental shift in the roles women could play in American society that began in the late 1970s and continues today — "the quiet revolution," the economist Claudia Goldin calls it. In 1955, women were one-third of the American labor force — they were unlikely to attend college, and if they worked, they were mostly limited to certain jobs, like teacher or secretary. That share slowly expanded until, in January 2019, women achieved a milestone: They made up more of the work force than men. The pandemic erased that status in a matter of weeks. And just as it took decades to achieve, it could take years to regain. Now, 56 percent of American women are working for pay, the lowest level since 1986."
CNBC: Parents spend an average of $8,355 per child to secure year-round child care: "Families across the U.S. spend an average of $8,355 a year on child care for each kid, which can hamper parents' employment opportunities and impact household budgets. Parents, on average, spend a little over $750 per child per month during the school year and an average of $834 for summer child care… [T]here's no denying child-care costs are a burden for many families. Nearly half, 46%, of the parents surveyed plan to enroll their children in some type of child care, camp or program this summer and of those, about half say they're planning to rack up credit card debt to pay for the expense."
LABOR SECRETARY VISITS WISCONSIN CHILD CARE FACILITY: Yesterday, Secretary Walsh visited the Days Gone By Early Learning center in Eau Claire, Wisconsin to discuss the child care challenges facing families. "It's a struggle all across this country," Walsh said. "And it's not just getting child care, it's getting good quality, high-quality child care. I think that that's the key." Read more about the visit here.