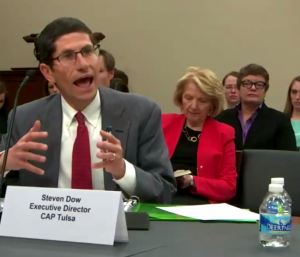 On Thursday, March 16, 2017 the Labor-HHS-Education Subcommittee (L-HHS) of House Appropriations convened a bipartisan hearing on FY18 budgeting priorities. This hearing came during the second consecutive week of leaders and experts in the early learning field being invited to Capitol Hill to speak on behalf of investing in children in the early years. Earlier this month, Educare D.C.'s Executive Director, Pyper Davis, testified before the House L-HHS Subcommittee on the urgency of increasing support for early childhood programs in FY2018. The committee, led by Chairman Cole and Ranking Member DeLauro, is responsible for putting forth a bill that allocates funding to the agencies that fall under its jurisdiction, such as U.S. HHS and U.S ED where the core federal early learning programs live. As the budget and appropriations process for FY2018 gets underway, the committee heard from Jennifer Garner, a Trustee of Save the Children; Steven Dow, the Executive Director of CAP Tulsa; Don Millican, a spokesman for the George Kaiser Family Foundation; and Dr. Jeanne Brooks-Gunn, a professor of child development and education at Columbia University.
Chairman Cole kicked off the hearing by underlining the necessity for federal investments to continue supporting the work being done in the states. Ranking Member DeLauro highlighted the legislative progress made in the last session of Congress, and the work that lies ahead in meaningfully funding legislative wins while leveraging public-private partnerships across federal, state and local funding. Towards the end of last year, FFYF shared its plan for building a continuum of affordable, accessible, high-quality early learning from birth through age five. While the current Continuing Resolution for FY2017 expires on April 28th, and the challenge of limited resources looms over the FY2018 budget, the FFYF National Poll for 2016 found that 90% of American voters, regardless of political affiliation, agree on this: Congress and the president should work together to make quality early childhood more accessible and affordable to low- and middle-income families.
The importance of investing in our youngest learners is supported by years of research, demonstrating the immense cost-savings to society when we support healthy child development starting at birth. Jennifer Garner's testimony centered on the fundamental relationship every young child needs with an adult who cares about them. The development of infants, toddlers and young children is supported through frequent, one-on-one, high-quality interactions in a serve and return approach. This, among many other parenting skills, are demonstrated to low-income mothers through the Maternal Infant and Early Childhood Home Visiting program (MIECHV). High-quality early childhood programs create and support the learning environment that young children need, while allowing low-income parents to enter and remain in the workforce – making it less likely that families will need additional public assistance. Directing public funding into children's education and development, when their brains are rapidly growing during the early formative years, would ensure children enter the kindergarten classroom ready to learn and succeed in school and beyond.
ECE program administrators like Steven Dow are improving access for children from low-income backgrounds by leveraging public-private partnerships comprised of federal, state, local, and philanthropic funding. When the base level of federal funding is strong and increases to meet the needs of eligible children, while also working to ensure quality, it bolsters the capacity of local efforts. In contrast, when there are fewer federal funds available, local efforts are hindered. Given that the near-term congressional agenda includes tax reform, Dow urged the L-HHS subcommittee to prioritize a refundable early learning and care tax credit if early learning is to be meaningfully updated within new tax legislation. For example, if the Child and Dependent Care Tax Credit (CDCTC) were made refundable for children under age five, the current law would be brought up-to-par with actual costs for non-school aged children and the credit would be expanded to additional low-income individuals who are not currently able to benefit from the credit due to limited tax liability.
The core federal early learning programs, such as Child Care and Head Start, have both undergone important legislative changes to increase quality. Congress has consistently shown bipartisan support for high quality early learning programs. In addition, states have led the way to support early learning programs; over the past five years states have increased funding to pre-K programs by 47%. High-quality early learning and care programs make a critical difference in the lives of children, there is simply not enough supply to meet the growing demand.  In order to serve all children who are eligible for services, a significant federal investment is needed. As Don Millican said in his testimony, "The problem of intergenerational poverty is highly complex…we do know that education is foundational to a child's ability to break the chains of poverty."
Don Millican's full testimony is available here.
Steven Dow's full testimony is available here.