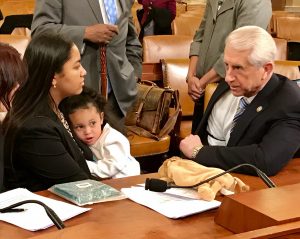 Yesterday, the House Ways and Means Subcommittee on Human Resources held a hearing on the importance of reauthorizing the Maternal, Infant, and Early Childhood Home Visiting (MIECHV) program, set to expire this fall. Among those invited to testify was Diana Rauner, President of the Ounce of Prevention Fund.
The Subcommittee Members, including Chairman Adrian Smith and Ranking Member Danny Davis voiced their support for MIECHV and programs like it – those that are research-based and outcomes-driven. Learning and development begins long before a child enters a classroom for the first time. In fact, the first five years of life is especially critical for families that are experiencing poverty, language barriers, and/or geographic isolation. In order for children to be ready for school, it is critical that parents have the tools necessary to support their child's development; this is why voluntary home visiting is such a valuable resource. Research demonstrates that positive outcomes from home visiting, while measured in the short-term, set children and families on a positive trajectory for the long term.
Dr. Rauner, who is also a developmental psychologist, the Co-Chair of the Illinois Home Visiting Task Force, and the First Lady of the State of Illinois, came to the field of early childhood because of concerns surrounding the huge social and economic cost of educational inequities. "Investments in the first years of life are simply the most efficient and effective ways to develop human capital. With the right investments, human capital development can provide great economic and social gains for individuals and society," testified Diana Rauner. Additionally, Dr. Rauner urged members of the subcommittee to reauthorize the MIECHV program, by highlighting how MIECHV funding has significantly enhanced the robust early childhood and home visiting systems in Illinois as a vital component of the State's infrastructure.
The First Five Years Fund and The Ounce of Prevention Fund are both members of the Home Visiting Coalition, a diverse group of organizations committed to the well-being of children, working to promote continued federal support of home visiting to strengthen families in communities across the country. Learn more at www.homevisitingcoalition.com.
Read Dr. Diana Rauner's full testimony here.
Watch the full hearing here.