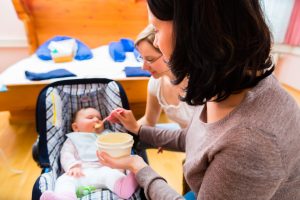 Ensuring the preservation of the Maternal Infant and Early Childhood Home Visiting Program (MIECHV) must be a top priority for Congress. MIECHV is a crucial source of funding support that enables states to serve eligible families with home visiting services, and its two-year extension made under the CHIP Reauthorization Act of 2015 expired on September 30th, 2017 — the same day as the Children's Health Insurance Program (CHIP).
There are only 9 legislative days in the month of December, and in this compressed window for working through a stacked agenda, Congress is faced with establishing a budget deal for FY2018 in order to avoid a government shutdown and overhauling the tax code for the first time in decades. Other issues are in a holding pattern as Congress grapples with these big ticket items, which poses a challenge to expired federal programs that support positive outcomes for children. One such issue is the status of MIECHV, a federal/state partnership that has supported states in delivering voluntary, evidence-based home visiting services since 2010. Without continued funding, home visiting programs will eventually deplete resources for serving families. Currently, many programs across the states faced with funding uncertainty have frozen enrollment, and nurses, social workers and trained professionals who make up the home visiting workforce have started to seek employment elsewhere, thus accelerating the urgency for Congress to address MIECHV.
Home visiting saves lives, and it changes them for the better. Funding for MIECHV goes towards programs that have demonstrated their effectiveness in improving the lives of families in at-risk communities across the country. Home visitors, comprised of nurses, social workers and trained professionals, support pregnant women and families with young children with access to critical resources in the early years – an essential and vulnerable period for a child's brain and physical development.
On October 26, 2017, the Senate Finance Committee released a "Discussion Draft" of Medicare and Other Health and Human Services Extender Provisions. Section 113 of this document is the extension of the Maternal, Infant, and Early Childhood Home Visiting program. The discussion draft extends MIECHV funding through fiscal year 2019. Extenders are a common way Congress is able to continue expired programs without new legislation. An extension of MIECHV as part of an Extenders bill will leave the program unchanged both in funding and policy for a set period of time.
Legislation to reauthorize MIECHV has been introduced in both chambers of Congress. A bipartisan Senate bill (S. 1829) was introduced by Senator Grassley (R-IA) and Senator Menendez (D-NJ) on September 19, 2017, and a House bill (H.R. 2824) was introduced by Representative Smith (R-NE) on June 8, 2017. H.R. 2824 passed the House by a bipartisan vote of 214-209 on September 26, 2017.
As Congress works through its legislative agenda, we encourage members on both sides of the aisle to make MIECHV a top priority to ensure that a vital program continues to serve eligible families now and in the future.