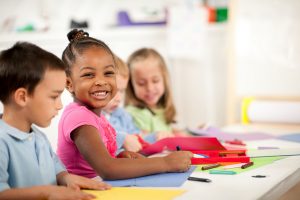 Young children and their families face significant barriers when it comes to early childhood education. To address their needs and build a culture of inclusion, the Department of Education and Health and Human Services released a policy statement on Monday on including children with disabilities in high-quality early childhood programs. The joint statement not only set a high expectation for high-quality inclusion in early childhood programs, but highlights the legal and research basis, as well as identifies challenges to adopting such inclusive practices. Examples of recommendations for state and local programs include everything from setting goals and tracking data to building a coordinated early childhood professional development system.
Education Secretary, Arne Duncan, emphasized the need for expansion in his announcement during the Education Department's sixth annual back-to-school bus tour launch event at Woodland Early Learning Community School in Kansas City, Missouri. "As our country continues to move forward on the critical task of expanding access to high-quality early learning programs for all children, we must do everything we can to ensure that children with disabilities are part of that," Duncan said.
Secretary Duncan additionally met with senior administration officials and state leaders in Kansas and Missouri on supporting inclusion efforts. To learn more how your state or local program provider can support these efforts, click here.