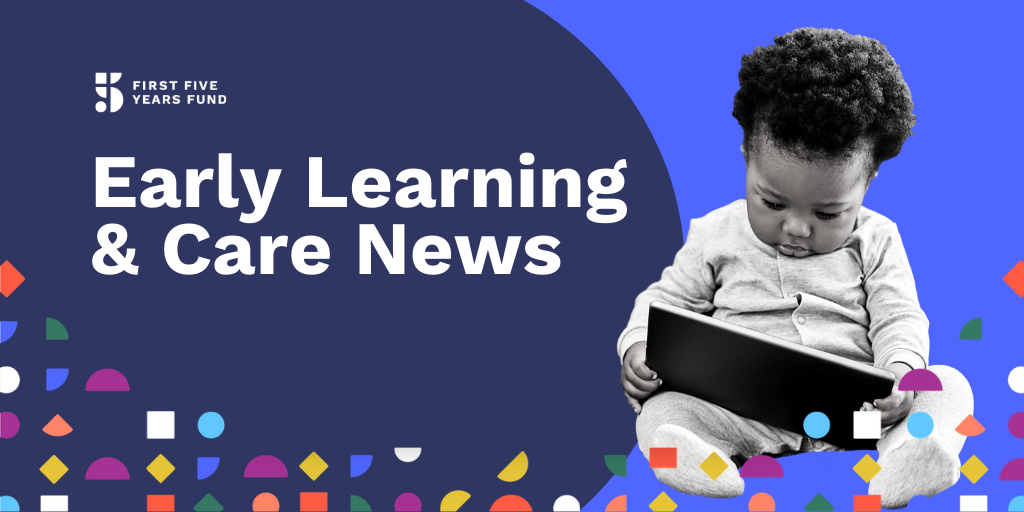 January 4, 2021
---
Providers across the country are looking forward to receiving the funding promised by Congress in the latest COVID-19 stimulus package. This money is needed as soon as possible as providers are facing immediate needs and the threat of impending closure. However the $10 billion promised may not be enough to keep the industry afloat.
Quality early learning has been proven to have lifelong benefits. Early childhood educators have had to be flexible throughout the pandemic on how best to provide quality care and education in a largely virtual setting. 

Many recognize the need for reform in ECE. In some places, expansion of access has faced challenges as the patchwork system of public/private providers is a complicated knot to unravel.
FFYF IN THE NEWS  

2020 In Review: The Year Of The Mother
Forbes | 12/28/20
Sarah Rittling, executive director of the First Five Years Fund, says the new Congress and incoming Biden administration have an opportunity to "address the nation's childcare challenges by fortifying an early learning and care system that works for all families."  

Congress proposes $10 billion in relief for the child-care industry, but advocates say it's only a 'down payment'
CNBC | 12/21/20
"Child-care providers have been hit hard by the Covid-19 economic crisis," says Sarah Rittling, executive director of the First Five Years Fund, an early childhood education advocacy organization.  

This Is What Childcare Could Look Like
Jezebel | 1/1/21
It is a proof that a federally funded, high-quality, widely accessible childcare system works—not in Paris or Stockholm, but right here in the U.S. It's a concept favored by 72 percent of voters nationwide, according to a recent poll by the First Five Years Fund, which also found that the pandemic has only strengthened these convictions.  

Childcare advocate groups push Congress for more federal Covid-19 relief
KNDO | 12/29/20
Advocate groups like First Five Years Fund say 10 billion dollars in Covid-19 relief is simply not enough. In order to keep the industry afloat, and for families to be able to afford child care First Five Years Fund, among others are urging congress to pass a bill that would provide 50 billion dollars in aid during this pandemic.  

Burr's bipartisan Child Care Protection Improvement Act ready for president's signature
Ripon's Advance | 12/28/20
The legislation received endorsements from the Bipartisan Policy Center, the Early Care and Education Consortium, the First Five Years Fund, and KinderCare.
NATIONAL NEWS  

Teaching Feelings in Preschool Can Ease Teen Problems
Futurity | 12/31/20
Researchers find that students attending Head Start preschools that implemented the Research-based, Developmentally Informed (REDI) program were less likely to experience behavioral problems, trouble with peers, and emotional symptoms like feeling anxious or depressed by the time they reached seventh and ninth grade.  

Can Boosting Child and Elder Care Help Democrats Win Control of the Senate?
The New Yorker | 1/3/21
In mid-December, a few weeks before Georgia's upcoming January 5th run-off election, Schanceline Nanje was in Marietta, knocking on doors on behalf of Family Friendly Action, a political-action committee working to elect politicians who support what it calls "the care economy": child care, elder care, health care, and paid family leave.
IN THE STATES  

ALABAMA
Daycare owners eager to get next wave of COVID-19 relief
WBRC | 12/31/20
The latest economic relief package includes $10 billion to help daycare providers keep the doors open for your child. Owners say continuing operations is a challenge that gets harder every day without the extra help.  

CALIFORNIA
California child care centers, workers to benefit from $1 billion in federal relief
Sacramento Bee | 12/31/20
A new round of federal coronavirus relief could help California's essential workers pay for child care and could keep the lights on at child care centers struggling to stay open, according to advocates for the centers.  

CONNECTICUT
'We are struggling': Greenwich preschools face rising costs in COVID era
CT Insider | 1/2/21
Experts agree on the importance of early childhood education, but the ongoing coronavirus crisis has left many programs struggling to pay the bills while teaching the youngest members of our society, according to a local leader in the industry.  

CONNECTICUT
Amid mounting expenses, stimulus shines some hope for child care centers
CT Insider | 1/2/21 The cost of constantly replenishing masks and cleaning supplies has added up, Contreras said, adding the aid she has received hasn't been enough to cover it. But with the prospect of more stimulus money from the federal government on the horizon, she sees the promise of better days ahead.  

ILLINOIS
How this Chicago pre-K teacher created a typical day for her students in an atypical year
Chalkbeat | 12/1/21
Chicago prekindergarten teacher Margi Bhansali approached the first day of school this year with apprehension. Even with National Board Certification and a decade of classroom experience, she faced the daunting task of getting to know her 15 4-year-olds virtually.  

MASSACHUSETTS
Some Families Choosing Kindergarten Gap Year To Avoid Remote Learning
CBS Boston | 1/1/21
As families struggle with remote and in-person learning, some are opting for a "kindergarten gap year" for their children. Rebecca Hubacher… said decided to hold her daughter Riley out of kindergarten this school year in part because of the pandemic.  

MICHIGAN
A Broken Link: Early Childhood Education Is Ripe For Reform
Traverse City Business News | 1/1/21
Though the return of K-12 instruction is great news for school-age kids and their families, the new year brings a daunting and worsening situation in pre-K early childhood programs for our youngest children.  

MISSOURI
Governor Parson announces $46 million in child care funding to support Missouri providers and working families
KTTN | 12/31/20
Governor Mike Parson announced $46 million in child care funding to ensure child care providers can support the needs of working Missouri families, especially those with low incomes during COVID-19.  

PENNSYLVANIA
'Ordered chaos:' Teachers and families adjust to pandemic pre-K in Philadelphia
Chalkbeat | 12/21/20
Like child care providers across Philadelphia, Kai's Comfy Corner has made adjustments to cope with the realities of the coronavirus pandemic — it's among just 74 who are offering some remote learning.  

TEXAS
Hard pill to swallow': Preschool institutions face eviction from HISD as district expands pre-K
Houston Chronicle | 12/31/20
HISD officials expect to fill classrooms currently occupied by the privately run organizations with district-enrolled students, at least some of whom will be 3- and 4-year-olds from lower-income backgrounds.   

WYOMING
Education committee advances changes to early childhood education governance
The Sheridan Press | 1/2/21
Wyoming legislators and agencies moved forward in the process to change the governance of the state's early childhood education programs in an attempt to realize better services for children as well as more consistent standards and management across the state.
Subscribe to our daily news report
and receive these stories directly to your inbox every morning.