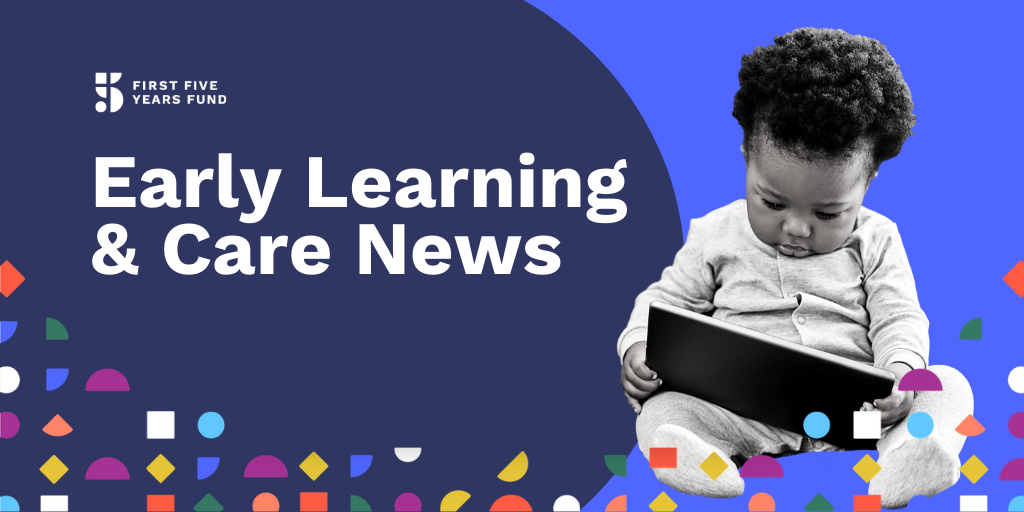 October 26, 2020
---
America's economic recovery will require a robust child care system as the industry's collapse has severely impacted parents' ability to work.
With the unpredictability of the pandemic, paired with longstanding challenges stemming from an underfunded child care system, many early educators are debating whether or not to leave the profession entirely. Without federal relief, more and more child care facilities will close nationwide.
With the election approaching, lawmakers and advocates continue their efforts to support the industry through grants and research while early learning and care attempts to tackle big issues under constantly shifting circumstances.
NATIONAL NEWS

A child care emergency for working families
The Hill | 10/24/20
There is a child care emergency unfolding across the United States. Since the beginning of the pandemic, more than 741,000 children in the U.S. have tested positive for the coronavirus. As a result, some 40% of U.S. daycares have closed.

Workers Exhaust Time-Off Options as Covid-19, Child-Care Issues Compound
Wall Street Journal | 10/24/20
With many schools still remote and case counts on the rise, many say they still need time off, but they have exhausted available leave or can't afford to take it without full pay.

How coronavirus exposed the flaws of the childcare economy
Salon | 10/25/20
The segment of our nation's workforce that attends to the basic needs of our children is shockingly underpaid, and now during the coronavirus pandemic, left even farther behind as childcare centers are forced to downsize or close.

What President Trump says he will do for moms
Motherly | 10/23/20
Election Day is nearly here and mothers in the United States have so much on their minds. Moms are concerned about paid leave, health care, childcare costs, racism and maternal mortality (among other things).

Start at the Beginning: New Report Offers Solutions to Rooting Out Racism in Early Education
The 74 | 10/25/20
Addressing racism in early childhood spaces is critical to creating an anti-racist America. This is the soil where future doctors, police officers, judges, bankers, and legislators begin to grow with their peers.

Why childcare must be a priority to restart the economy
The Hill | 10/25/20
In America, our approach to caring for and educating preschoolers is market-based. We expect parents to pay for childcare and preschool on their own dime so that they can work.

I'm a preschool teacher who is teaching virtually during the pandemic. Here's how my job has changed, and my advice on how parents can best support their kids.
Business Insider | 10/24/20
My job totally changed back in March, when we switched to virtual teaching due to the pandemic. I'm still teaching virtually this fall, but it's very different than it was in the spring. Virtual teaching in the spring was honestly very trial and error.
IN THE STATES

FLORIDA
Distance learning for Voluntary Pre-Kindergarten to end in Florida starting next year
WPTV | 10/23/20
Many parents have made the tough decision to either keep their kids at home or send them back into the classroom. But for some of the youngest students in our area, there will soon be no option.

GEORGIA
Workers scramble, readjust as child care centers across Georgia close
Atlanta Journal Constitution | 10/24/20
Experts say the crisis in day care is becoming a crisis in the economy. Without reliable, affordable child care, some parents — especially mothers, who bear a heavier burden when it comes to child rearing — can't work.

MICHIGAN
Economist: Without federal help, day cares are at risk of closing permanently
Fox 17 | 10/23/20
Day cares across the country are facing similar hardships. Most had to shut down during the spring. Unlike schools, they couldn't provide care virtually. Day cares that have reopened have seen enrollment numbers plummet…

PENNSYLVANIA
Commonwealth Releases New Pennsylvania Statewide Report Reflecting County-level Needs on Maternal, Child and Community Health Issues
My ChesCo | 10/24/20
The Pennsylvania Office of Child Development and Early Learning (OCDEL), a joint office between the departments of Education and Human Services, released a new Family Support Needs Assessment…

SOUTH DAKOTA
Grant aims to assist advocacy for early childhood learning
Rapid City Journal | 10/24/20
Early Learner SD has been awarded a $25,000 grant to advocate for and raise awareness statewide about the importance of early learning for babies and children through age 8.

WASHINGTON
Lynette M. Fraga and Deeann Puffert: The COVID-19 math doesn't work for Washington's child care providers
The Spokesman Review | 10/24/20
This is a critical time for our economy. It is also a critical time for the most important workforce support of all – child care. Parents cannot work, no matter how essential they are, if they do not have child care for their children.
Subscribe to our daily news report
and receive these stories directly to your inbox every morning.