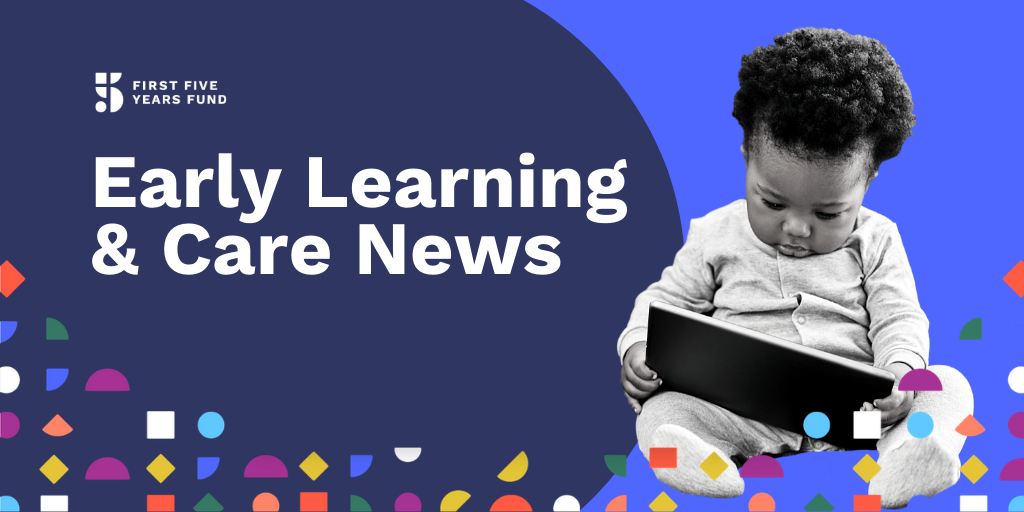 November 12, 2020
NATIONAL NEWS  

What A Biden Presidency Could Mean For Education
NPR | 11/10/20
The president-elect has promised a broad expansion of K-12 to include 3- and 4-year-olds in the form of "high-quality, universal" prekindergarten. Publicly funded preschool has been gaining momentum in the states over the past two decades.  

Combat Social Inequality: Why Early Childhood Education Is So Essential
Cafe Mom | 11/10/20
One of the biggest barriers to equality is education: children from under-resourced communities enter kindergarten an average of 18-months behind their more advantaged peers. No school system can remediate a gap on this large of scale.  

Why bringing women back into the workforce is Joe Biden's greatest opportunity to recharge the economy
CNBC | 11/10/20
We've heard plenty of discussion about President-elect Joe Biden's plans for… economic stimulus. But little attention has been paid to perhaps the greatest opportunity to recharge the… economy: Bringing women back into the workplace.  

The business case for child care
Axios | 11/10/20
Child care is denting the workforce, preventing a huge swath of Americans from contributing to their firms and to the economy at large. To chip away at the problem, and protect their bottom lines, employers are bulking up child care benefits for workers.  

The Pandemic Has Already Had A Serious Impact On Kids' Development
Romper | 11/11/20
At the beginning of the coronavirus pandemic, parents, educators, and child experts feared school and daycare closures could have a devastating impact on children. Now, a new report… has concluded that the COVID-19 pandemic has negatively impacted children's learning and development.  

Among the Winners of the 2020 Election: Universal Preschool
EdSurge | 11/11/20
In an election that drew historic turnout among Americans and mixed results for the two main political parties, there is at least one issue that collected victories up and down the ballot: early childhood education.  

Freelance Childcare: Why We Need To Solve This Problem Made Worse By Covid-19
Forbes | 11/11/20
Childcare is not a family issue, it's a business issue. We know from research that working parents – a third of the US workforce – lose an average of eight hours per week due to child care responsibilities during the pandemic…  

Making Childcare More Accessible
Bloomberg | 11/12/20
With all the focus on the presidential election, it's easy to miss some of the local and state ballot measures passed last week in the U.S. One area that stands out is childcare.
IN THE STATES  

COLORADO
Denver's taxpayer-funded preschool program offers working families more tuition help
Chalkbeat | 11/10/20
The Denver Preschool Program is now offering more financial help to working families that make too much to qualify for free preschool but still struggle with tuition costs. That help comes in the form of 250 scholarships meant to cover… preschool cost…  

GEORGIA
Georgia voters support free quality preschool, childcare
Savannah Now | 11/10/20
Funding for early childhood education and affordable quality child care have been marked among the top priorities for President-elect Joe Biden. Access to free, high-quality pre-kindergarten programs for all 3- and 4-year old children is specifically listed as a program Biden would like to see funded.  

ILLINOIS
Reopening questions: Six issues Chicago preschool teachers are weighing as the first to return
Chalkbeat | 11/10/20
Safety is educators' top concern, but hesitation stems, too, from what they say is a lengthy list of unanswered questions particular to educating 3-year-olds and 4-year-olds.   

ILLINOIS
Resolving the Pre-K Paradox: New Research Details How Chicago Filled its Preschool Classrooms with the City's Neediest Kids
The 74 | 11/11/20
A series of policy changes begun seven years ago to help create more equitable enrollment in Chicago Public Schools' pre-K programs has worked, according to education researchers at three Chicago organizations.   

LOUISIANA
A struggle for early childhood learning centers
American Press | 11/11/20
Day care and early childhood learning centers in the region have had an uphill battle this year fighting the effects of COVID-19 and now two hurricanes, Michelle Joubert, Calcasieu Parish School Board early childhood director, said.  

MASSACHUSETTS
Health care staffing levels strained by childcare 'crisis,' execs say
Boston Business Journal | 11/11/20
The pressures exist for employees in every industry across the state. But they are perhaps more acute within the health care sector, both because the work is largely done in person, and because of the risks front line workers have…  

VIRGINIA
County moves nearer to paying parents
Culpeper Times | 11/11/20
Culpeper County may soon be dolling out $730,000 to parents who have suffered financially due to increased childcare requirements amid the coronavirus pandemic.
Subscribe to our daily news report
and receive these stories directly to your inbox every morning.