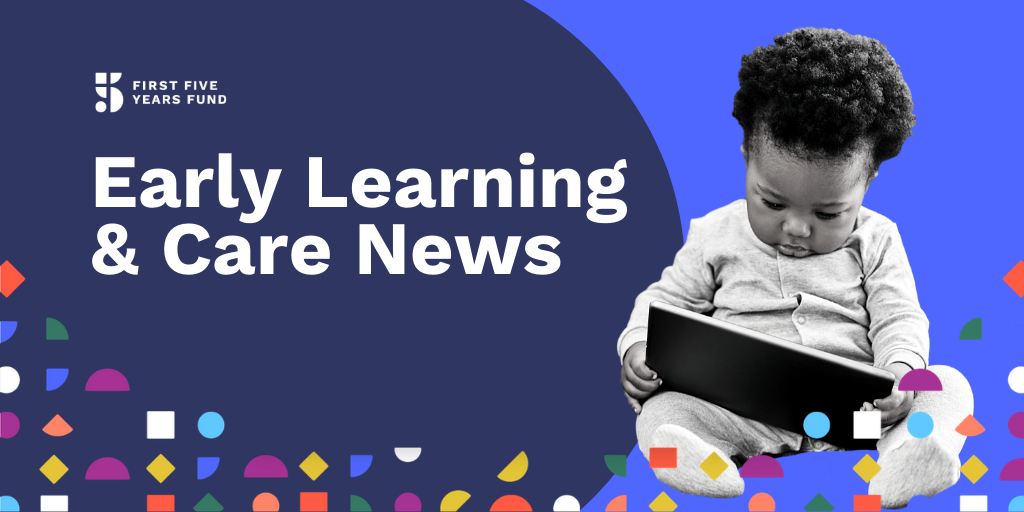 November 13, 2020
NATIONAL NEWS  

The mounting costs of child care
Axios | 11/13/20
The coronavirus pandemic has taken a toll on how much working parents are able to contribute to their jobs and the economy. Now, businesses are facing a reckoning: fill the gap and help working parents with child care or risk hurting their own bottom lines.  

COVID Is Pushing Black Mothers Out of the Workforce at a Staggering Rate
The Cut | 11/12/20
iThe report, published by the Federal Reserve Bank of Dallas, found that while women in general were more likely to leave the pandemic-era labor force — likely due to the increased child-care responsibilities of having their children at home…  

University Scholars Plant Seeds In a New Field of Study: Early Childhood Policy
Edsurge | 11/12/20
Their effort, called the Early Childhood Policy in Institutions of Higher Education Initiative, also aims to establish early childhood policy as a field of inquiry, including at universities, which serve as training grounds for policymakers and hubs of research.  

The $2 trillion question: how to spend on education for the future
Wall Street Journal | 11/12/20
The Wall Street Journal spoke with education experts for their ideas on how to improve the return on investment. Their recommendations? Early-childhood education with a bigger focus on children's health…  

Why Biden's free childcare plan is a worthy feminist reform
Salon | 11/12/20
This is all to say that the Biden-Harris administration's focus on reviving the economy will largely hinge on whether it prioritizes making it easier to get women back to work, and that means universal childcare.
IN THE STATES  

MASSACHUSETTS
Baker-Polito Administration Awards $6.5 Million for Early Education Programs
Framingham Source | 11/12/20
The Baker-Polito Administration and the Community Economic Development Assistance Corporation (CEDAC) today announced $6.5 million in Early Education and Out-of-School Time (EEOST) grant funding awarded to seven organizations…  

MICHIGAN
COVID-19 pandemic causing problems with preschool programs
WZZM | 11/12/20
Since March, the COVID-19 pandemic has presented challenges for educators and students across the state. Now, it is causing problems with some of West Michigan's youngest and most vulnerable school kids — preschoolers.  

NEW MEXICO
Experts: Neglect prevention key to better childhood outcomes
KOB 4 | 11/13/20
Any efforts in New Mexico to build a successful early childhood education system will depend on the state's ability to prevent child neglect and abuse.  

OREGON
Can I Talk to You About Preschool for All?
The Cut | 11/12/20
Shortly before the pandemic started, I began volunteering with a coalition to get universal preschool and higher wages for teachers on the ballot. By the time COVID summer was in full swing, I was accosting strangers to sign a petition in order to do so.  

TEXAS
Texas Lags in Early Childhood Learning; Advocates Seek More Funding
Reform Austin | 11/12/20
A new report shows that the Texas Early Childhood Intervention program is under-enrolling infants and toddlers with disabilities and developmental delays as state funding for the program continues to lag behind previous funding levels.
Subscribe to our daily news report
and receive these stories directly to your inbox every morning.