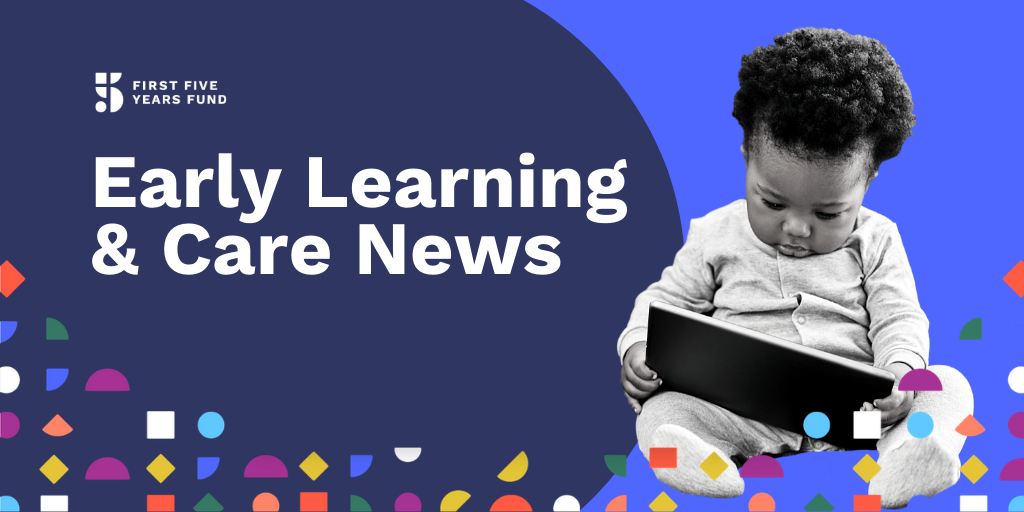 December 14, 2020
---
Negotiations continue on the hill for a pandemic relief package. This includes critical funding for early learning and care which advocates, providers, and lawmakers say is essential to restarting the economy and sustaining the industry.
Providers are struggling to keep their doors open. Many communities are seeing drops in enrollment. For others, the cost of providing care has become burdensome.
Some states are individually weighing how to move early learning and care forward. California has a new "master plan" and looks at expanding paid family leave. While Illinois is receiving pressure to create an early learning state agency.
IN THE STATES  

CALIFORNIA
What's next for the new early education Master Plan?
EdSource | 12/11/20
It's great or terrible timing for California's new Master Plan for Early Learning and Care. The 112-page report from the Newsom administration outlines plans to expand preschool, child care and paid family leave, and boost pay and training…  

CALIFORNIA
How California plans to increase access to Paid Family Leave to support early childhood
EdSource | 12/14/20
California became the first state in the nation to offer parents Paid Family Leave in 2014. Now, more than a quarter million parents use this lifeline to take care of their newborn babies every year.  

CALIFORNIA
Hundreds of San Diego County child care providers have closed due to the pandemic
San Diego Union Tribune | 12/14/20
The COVID-19 pandemic has closed 535 child care businesses in San Diego County while simultaneously raising operating costs and shrinking revenues for an already struggling industry.  

COLORADO
Can preschoolers learn virtually? In a Denver pilot program, some kids 'can't wait to log in'
Chalkbeat | 12/11/20
Unlike some other Colorado school districts, Denver Public Schools originally did not offer a virtual preschool option. Administrators there believe strongly that in-person learning is better for the youngest students.  

FLORIDA
Florida still won't disclose daycare COVID-19 numbers
WFTS | 12/11/20
Despite months of repeated requests, Florida's Department of Health is still refusing to divulge the number of COVID-19 cases in child care facilities around the state.  

ILLINOIS
Commission calls for Illinois to create state agency to oversee early learning
Chalkbeat | 12/11/20
Illinois should create a state agency to oversee early education instead of relying on multiple agencies steering different programs with little accountability or transparency, according to a draft recommendation from a statewide commission.  

NEW HAMPSHIRE
Shaheen: Child care services 'critical' to recovery from pandemic
Seacoast Online | 12/11/20
U.S. Sen. Jeanne Shaheen, D-NH, told New Hampshire child care service providers Friday afternoon that to help jumpstart an economy reeling from the effects of COVID-19, the availability of safe child care services will be critical.  

NEW MEXICO
Pandemic brings child care struggles
Albuquerque Journal | 12/13/20
The continued operation of the Christina Kent center and many other child care services across the state is essential to making sure parents are able to still work. But the pandemic has slashed enrollment…  

NEW YORK
Child care providers call for financial assistance from the government
WKBW | 12/12/20
On Saturday, the Western New York Child Care action team held its second annual action day. "The reason that we have days like today is to give child care providers an active live and in color voice," co-founder of the Western New York Child Care Action Team Vonetta Rhodes said.  

NORTH DAKOTA
Ongoing pandemic is forcing many moms out of the workforce
Grand Forks Herald | 12/14/20
It's probably time to revisit the notion that affordable, national child care is vitally important for a vibrant, healthy workforce, considering that the majority of children in the United States today grow up in a home with a single working parent or two married parents who are both employed;  

PENNSYLVANIA
Pre-K enrollment down substantially as pandemic drags on
Beaumont Enterprise | 12/13/20
As the pandemic sent shock waves through public schooling last spring, many parents chose to delay sending their young children to pre-kindergarten classes, and some chose not to send them at all.  

PENNSYLVANIA
Drop in state subsidies has been devastating to child care centers
Lehigh Valley Live | 12/13/20
 As our state spends down the last of the CARES dollars and the federal government gives no indication that a new stimulus package will be passed before the year's end, centers are faced with an uncertain future.  

PENNSYLVANIA
COVID relief must support early learning programs
Penn Live | 12/14/20
We know that the more our children succeed, the more our communities will succeed as a whole. And that's why we are worried about the stability of Pennsylvania's high-quality child-care and pre-k programs as the COVID-19 pandemic continues.  

WASHINGTON
Child Care Providers in Washington Weigh a Strike as They Struggle to Stay Afloat Amid Pandemic
The Daily Chronicle | 12/13/20
Washington family child care providers are contemplating a strike, with union participants saying they're at their wits' end amid increasing pressure from the pandemic. It would be the first statewide strike in history among child care providers…
Subscribe to our daily news report
and receive these stories directly to your inbox every morning.