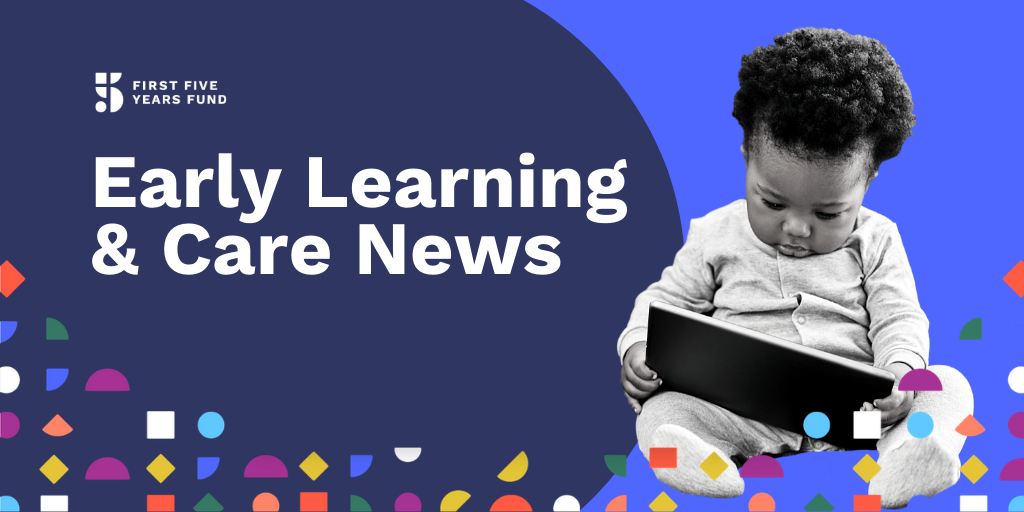 December 3, 2020
---
The long-term effects of the current child care shortage will have serious repercussions for young learners. Not to mention, the careers of women who have left the workforce in droves since the pandemic began.
Providers struggle to make ends meet as shortages continue across the country. This includes a lack of staffing options and increased demand on the few slots available.
FFYF IN THE NEWS  

Childcare Advocates Prepare for an Opening Door
Non-Profit Quarterly | 12/2/20
A First Five Years Fund poll conducted right after the 2018 midterm elections found "voters on both sides of the aisle see quality childcare as a rare, unifying policy issue." A new poll conducted this year found that 76 percent of voters in swing states want the federal government to provide funding to improve their childcare programs.
NATIONAL NEWS  

COVID means more kids won't be ready for kindergarten. America's preschoolers are falling behind.
USA Today | 12/3/20
For America's low-income children, high-quality opportunities to prepare for kindergarten were already in short supply before the pandemic hit. Nationally, child care was out of reach for many Americans…  

Melinda Gates: This pandemic has exposed our nation's broken caregiving system
Washington Post | 12/2/20
Even before the pandemic began, child-care and long-term care solutions were often unaffordable and inaccessible, and women were filling the gaps at tremendous cost to their own economic potential.

IN THE STATES  

COLORADO
Lawmakers approve millions to support child care providers and remote learners
Chalkbeat | 12/2/20
Colorado lawmakers on Wednesday approved more than $65 million for one-time aid to child care providers and for internet connections for remote learners. Lawmakers approved the two bills as part of a three-day special session to infuse over $300 million to support those hard hit by the coronavirus pandemic.  

IOWA
Child care owner addresses shortage in Iowa
KMTV | 12/2/20
The Center for American Progress reports than half of Americans live in child care deserts. With high costs and tight finances, it's difficult to operate child care businesses. One child care owner in Council Bluffs opens up about the struggles the industry is facing and the toll the pandemic has taken.  

KENTUCKY
Lexington early childcare teacher talks struggles within daycare industry
WKYT | 12/3/20
When the phased reopening of Kentucky started, childcare facilities were low on the list. The difficulties of social distancing kids meant more time was needed for the state to come up with safe reopening guidelines.  

PENNSYLVANIA
Is there a crisis in childcare?
North Central PA | 12/2/20
Early learning and child-care providers serve families across all socio-economic classes and provide the valuable care needed so parents can go to work and so children have the proper start they need in life.
Subscribe to our daily news report
and receive these stories directly to your inbox every morning.