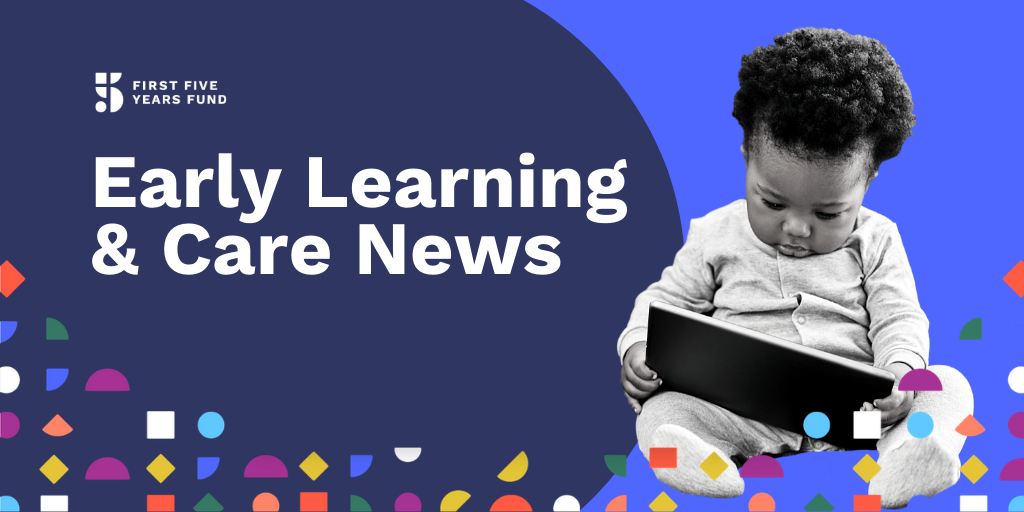 December 8, 2020
---
Negotiations on the Hill have continued for a COVID-19 relief package but will there be enough included for child care? Advocates, families, and providers are concerned that without a significant amount of federal relief options for care will dwindle down to nothing.
The cost of child care is on the rise. Parents nationwide already struggled to afford quality care before the pandemic now it seems a near impossible task.
An industry that has largely depended on women of color is now seeing Black and Latino women disproportionately affected by the pandemic. Lation families are also facing cost barriers and lack of access when seeking early learning and care.
NATIONAL NEWS  

Coronavirus takes toll on Black, Latino child care providers
Associated Press | 12/7/20
The U.S. child care industry has long relied on Black and Latina women, with women of color making up 40% of its workforce, according to the Center for the Study of Child Care Employment.  

The cost of child care was already astronomical. In the pandemic, it's 'terrifying.'
The Lily | 12/7/20
While wealthier parents can afford to "get creative," lower income and many single parents have far fewer options, said Caitlyn Collins, a professor of sociology at Washington University in St. Louis who studies women and families.  

Increase in head start funding 'a national priority'
EurekAlert | 12/7/20
Increased funding for Head Start — the largest federally funded, early childhood development program in the United States — is needed to support families during the COVID-19 recession and to ensure a more stable economic recovery.  

Child Care Left Behind in COVID Relief Talks
The American Prospect | 12/8/20
Time is running out to pass a spending bill to keep the government open and running before the December 11 deadline, and to include in it a COVID-19 relief package. Thankfully, negotiations are once again gaining momentum.   

COVID-19 still highlights child care struggles
The Hill | 12/7/20
The struggle to provide high-quality, or even adequate child care is not new to many working parents — single or partnered. COVID-19 has exacerbated this problem to a crisis level.  

How Head Start child care programs handled COVID-19 safety
Axios | 12/8/20
Head Start programs may provide a model for how to implement coronavirus protections in child-care facilities, according to an analysis from the Centers for Disease Control and Prevention.
IN THE STATES  

CALIFORNIA
New Master Plan for early learning points way to California for all
EdSource | 12/8/20
As public servants and mothers whose life work is dedicated to maximizing the potential in all children from birth through young adulthood, we stand together as partners in an effort to transform how we provide every infant, toddler and preschooler a successful start that carries them through school and life.  

CALIFORNIA
Opinion: Child care is essential work, and it's in crisis
Mercury News | 12/8/20
Nearly 6,000 family child care providers like me — mostly Black and Brown women — closed their doors in California this year. Many will likely never reopen, jeopardizing the availability of affordable child care for working parents.  

ILLINOIS
Latino families seeking child care face cost, access issues
Chicago Tribune | 12/8/20
When the pandemic forced many day care centers across the city to close, it created a hardship for many local families and added even more difficulty to some who had already faced a tough time finding care in their communities.  

MINNESOTA
Coming up: Can Minnesota close gaps and lead in early childhood development?
Minnesota Public Radio | 12/7/20
Parenting is a difficult job. Add a pandemic and racial inequity, and it can be even more daunting. As part of the annual conference for Little Moments Count  MPR News host Angela Davis recently moderated a discussion about how racial disparities and COVID-19 are affecting families with young children…  

NEW YORK
Pandemic creating costly childcare
WKBW | 12/7/20
A study from this past summer shows costs for child care centers have gone up 47% during the pandemic. Additional sanitation and spreading out of groups of children are two the main factors according to the study.  
PENNSYLVANIA
Child care centers need federal COVID relief to survive
Lehigh Valley Live | 12/8/20
I'm asking Sens. Pat Toomey and Bob Casey to support another urgently needed stimulus relief bill to help small businesses like mine. The childcare sector is hurting badly.   

TENNESSEE
More TANF investment in home visiting will expand services to more Tennesseans
Tennessean | 12/7/20
Tennessee's decision to spend an additional $56 million dollars over four years to expand evidence-based home visiting (EBHV) programs is a wise investment of Temporary Assistance for Needy Families (TANF) funds.  

WISCONSIN
Health care workers in critical need of childcare
WSAW | 12/8/20
Health care workers are struggling to find childcare providers for their kids as they continuously work during the pandemic. Even before the pandemic began it can be hard to find child care, but now the pandemic has made it even more difficult…  

WYOMING
$1.1 million in CARES funds provided to Wyoming families for child care costs
Oil City News | 12/7/20
The Wyoming Department of Family Services (DFS) said on Monday that they have been able to distribute over $1.1 million in funding to Wyoming families which saw an increase in child care costs due to the COVID-19 pandemic.
Subscribe to our daily news report
and receive these stories directly to your inbox every morning.