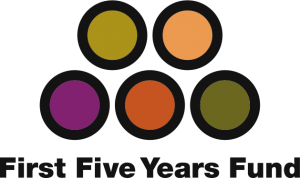 WASHINGTON – Today, the First Five Years Fund (FFYF) announced that Sarah Rittling, the organization's current National Director, has been named Interim Executive Director. Rittling will succeed Kris Perry, who has led the organization as Executive Director since 2012, when Perry assumes her new role as president of Save the Children Action Network on February 6th, 2018.
"Sarah Rittling's impressive political advocacy experience in Washington, D.C., and her years overseeing operations at the First Five Years Fund make her the perfect choice to step into this role," said Jessie Rasmussen, President of the Buffett Early Childhood Fund, and co-chair of FFYF's governing Executive Policy Council. "Sarah embodies the spirit and the work of FFYF, and I know the organization will continue achieve great things for America's young children under her leadership.
"We are incredibly grateful to Kris Perry for building FFYF into the indispensable organization it is today. Kris has assembled a powerhouse team in her five years at FFYF, and was immensely successful in establishing FFYF as a leading voice for early childhood education in the halls of power in Washington. We wish her the very best as she embarks on the next chapter in her career."
"As FFYF enters our second decade advocating in Washington, D.C. for quality early childhood education, we are uniquely positioned to expand on the tremendous successes and bipartisan influence built over the past 10 years," said Sarah Rittling. "We must continue to double down in our efforts to leverage every existing and new opportunity to ensure young children, particularly those living in poverty, have access to quality early childhood education. We have a packed agenda and I look forward to carrying on the legacy of bipartisan achievement Kris Perry set in motion. I am grateful to FFYF's philanthropic partners who have entrusted me with making sure we meet our goals for children as we head into 2018 and this next chapter of our advocacy."
Since joining FFYF in 2015, Rittling has led the organization's bipartisan government relations efforts, managed partnerships with early childhood and other advocacy coalitions, and directed the organizations staff and operations. Before joining the FFYF staff, she spent four years consulting for FFYF as Senior Policy Advisor at EducationCounsel. Previously, she served as counsel to Sen. Lamar Alexander, (R-TN), and, prior to that, as counsel to Rep. Michael N. Castle, (R-DE). Rittling holds a Bachelor of Arts from Syracuse University and earned her J.D. from Syracuse University's College of Law. She and her husband live in Washington, D.C. with their two children.
Rittling's appointment comes following the announcement that Kris Perry has been named president of Save the Children Action Network, a 501(c)4 organization that serves as the political and electoral advocacy arm of Save the Children on issues related to preventable maternal, newborn and child deaths globally, as well early childhood education.
The First Five Years Fund provides knowledge, data and advocacy – persuading federal policymakers to make investments in the first five years of a child's life that create greater returns for all. FFYF helps America achieve better results in education, health and economic productivity through investments in quality early childhood education programs for disadvantaged children. http://www.ffyf.org
###