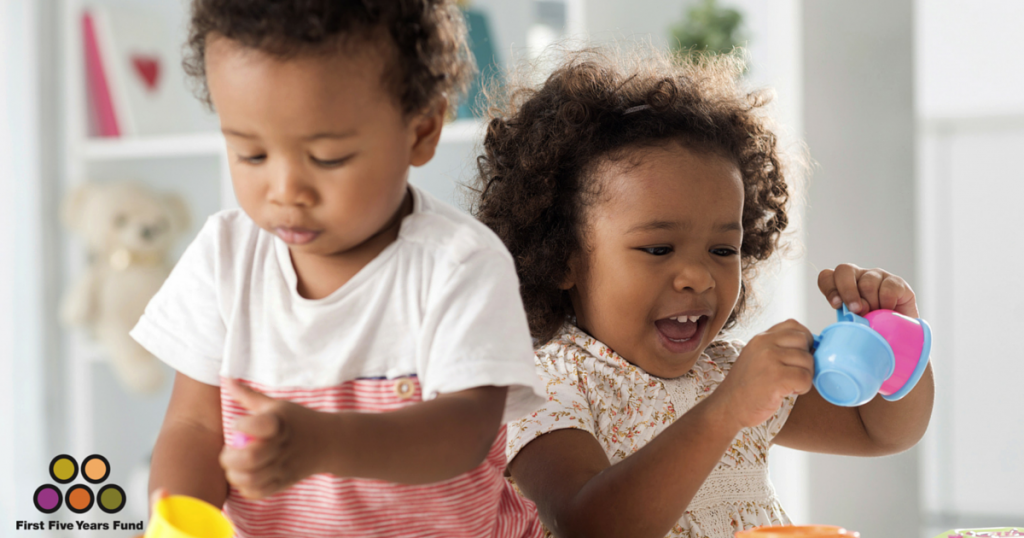 As Black History Month comes to a close, we at FFYF want to take this opportunity to shine a light on investments at the local, state and national level in early learning as they collectively strive to improve the early learning opportunities for black children from low-income families every day, and not just in February.
Starting at birth, investing in early learning benefits the individual child, the family, and society. While not a silver bullet, investing in high quality early learning opportunities is significant to improving child outcomes that can change the course of one's life. However, not every child has the means to access high quality early learning. The opportunity gap begins long before a child enters for their first day of kindergarten. Young children are the most vulnerable to the effects of poverty, and they are also the most likely of any demographic to experience it. Black children are disproportionately represented in the group of students from low-income backgrounds who face significant barriers to beginning school ready to learn and succeed. In a recent report by Stephanie Schmit and Christina Walker at the Center for Law and Social Policy (CLASP), 'Disparate Access: Head Start and CCDBG Data by Race and Ethnicity', black children faced the highest poverty rate of any race/ethnic group at 43% of all black children from birth through age five. Poverty makes accessing quality early learning opportunities all the more difficult, if not entirely out of reach.
Addressing and supporting the learning and development of young black children from low-income families can be done at the local, state and federal level with support from both in the private and public sectors. Head Start is a major federal program that directly funds grantees at the local level. These grantees use community needs-assessments to identify ways in which to target resources through outreach for underserved populations in that area. Examples of targeted programs date back as far as Head Start's existence when high access for Black children in the south during the civil rights movement was established in the Child Development Group of Mississippi (CDGM). The commitment at local, state and federal levels to improving access to critical opportunities like early learning has made a difference in many lives, but the work isn't over. Continued efforts to increase program quality and access are necessary in order to serve all eligible children.
Just a few short months ago, Congress took major action to support early childhood education with the reauthorization of the Elementary and Secondary Education Act (ESEA), as amended by the Every Student Succeeds Act (ESSA). ESSA is the nation's biggest education law, and it now spells out opportunities for states and local educational agencies to further invest in the development and improvement of early learning services for children and the early learning workforce. Many states are already leading the way on early learning by leveraging federal, state and private investments to deliver local innovation. For example, Alabama's First Class Voluntary Pre-Kindergarten Program champions a mixed model delivery system, which improves parent choice, and meets all 10 of the National Institute for Early Education Research's (NIEER) benchmarks for quality. This year we expect even more states to increase their investment in quality early learning opportunities for children.
The Child Care and Development Block Grant (CCDBG) is another major federal program that provides low income families with a subsidy in order to access child care. The law is currently undergoing a rulemaking process that would update the regulatory component, which has significant implications for implementation. A significant addition to the CCDBG regulations is found within the Training and Professional Development section: "…we propose adding that the training and professional development requirements must also improve the quality and diversity of caregivers, teachers, and directors. Maintaining diverse and qualified caregivers, teachers, and directors is a benefit to serving children of all backgrounds." Intentionally working to increase the diversity of the early learning workforce will mean that young black children will have more opportunities to be taught by a teacher who looks like them. This addition to CCDBG would align with one of the policy recommendations found in a 2013 report by the National Black Child Development Institute, 'Being Black Is Not a Risk Factor: A Strengths-Based look at the State of the Black Child'. Dr. Hakim M. Rashid recommended recruiting black male teachers in early learning classrooms. Currently, black male teachers are a rarity, despite the fact that 29% of all Head Start participants from birth through age five and pregnant women are black. Making this change at the federal level could lead to meaningful change in the classroom.
Through a collective effort at multiple levels from likely and unlikely partners, improving access to and the quality of early learning in America can be a meaningful component to achieving equality. We know that high quality early childhood education has the ability to close the achievement gap and set kids up for success in school and in live. And as long as Black children are disproportionately affected by poverty, we must do more to ensure they have access to high quality early learning experiences.