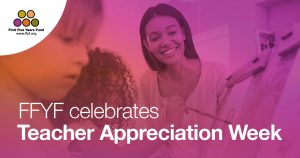 This week we celebrate Teacher Appreciation Week! At FFYF, we're taking time this week to stop and thank all of our nation's incredible teachers and caregivers—particularly those working with children from birth through age 5—who make high-quality education opportunities a reality. We encourage you to do the same!
For our youngest learners, the period from birth through age five is critical for long-term cognitive, social, and emotional development. The teachers who support the education and development of these children, particularly those from low-income families, are helping lay the foundation that will allow kids to be successful in kindergarten and beyond for the rest of their lives.
At FFYF, we are committed to equipping policymakers and advocates with the research and information they need to make the best-possible investments in high-quality early learning and child care. After all, estimates show:
Children participating in high-quality early childhood education have increased college graduation rates and increased rates of employment at age 30;
Investments in high-quality early childhood education can generate up to $7.30 in returns to society for every dollar invested; and
Access to stable, high-quality child care helps parents improve their labor productivity by increasing work hours, missing fewer work days, and pursuing further education.
Despite these and countless other reasons to invest in early childhood development, none of the benefits of early childhood education would be possible without the professional educators who work directly with our nation's early learners and their families. These individuals' expertise and unending commitment to the profession and their students will continue to grow the impact of these investments.
This week is an important time for us all to show our appreciation for teachers. While it is the designated week to celebrate these individuals, it is also important to remember that they are carrying out their critical work every day. Our expressions of appreciation for these individuals should never be limited to just one week of the year.
So, to all of the caregivers and teachers across the country—thank you. We can never express enough appreciation for your hard work and dedication to our nation's youngest learners!