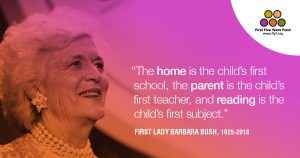 Barbara Bush will be remembered by many for her role as First Lady, and for the sharp wit and compassion she brought to that office. Among her many passions was her lifelong dedication to education, specifically early childhood education and literacy.
Aside from her work as a mother, wife, and First Lady, Mrs. Bush worked tirelessly to advance opportunities for all children to learn and grow from a high-quality education. At FFYF, we remember Mrs. Bush for her advocacy in early childhood education, and we honor the progress and achievements she helped make possible.
"The home is the child's first school, the parent is the child's first teacher, and reading is the child's first subject," Mrs. Bush once said when stressing the importance of education.
Mrs. Bush dedicated her life to sharing the gift of reading and writing with children across the country. Literacy was an important cause for Mrs. Bush throughout her life, before, during, and after her time as First Lady. In 1989, to promote education for children and adults, Mrs. Bush established the Barbara Bush Foundation for Family Literacy, which has raised more than $110 million to support family literacy programs and early childhood education across the United States. According to the Foundation's website, more than 160 Barbara Bush Foundation family literacy programs are in operation today, supporting efforts to improve child development and reading levels.
Mrs. Bush's dedication to expanding education opportunities no doubt influenced the work of her husband, President George H.W. Bush, and two of her sons' political careers, President George W. Bush and Florida Governor Jeb Bush. All three went on to pursue ambitious education policies while in public office.
Many of the most widely-recognized images of Mrs. Bush were not taken of her at a state dinner or an inauguration ball. They are images of her reading to children and working to improve the lives of others—particularly our nation's youngest learners and those whose circumstances at birth otherwise might have held them back from achieveing their full potential. Who can forget the awe-inspiring photo of Mrs. Bush holding, loving and kissing a baby born with AIDS?
Love, kindness, and education will forever be the legacy Mrs. Bush leaves behind. At FFYF, we will continue to spread her message and build on the progress she made in expanding access to early childhood education for years to come.