Washington, D.C. – Kris Perry, Executive Director of the First Five Years Fund (FFYF), released the following statement in response to Congress passing the fiscal year 2017 omnibus appropriations bill, which increased or maintained existing funding for early learning programs for the fourth consecutive year:
"We applaud Members of Congress from both parties for coming together to recognize the critical importance of high-quality early childhood education programs for America's youngest children and their families.
"Increased and sustained funding for these essential federal early learning programs builds upon previous bipartisan efforts to make high-quality care more accessible for the kids who need it most. Republicans and Democrats on Capitol Hill know that real leadership means politics and partisanship must take a backseat when the education and care of America's young children are at stake.
"Now, as the attention turns to FY18, we look forward to working with bipartisan leaders in Congress to ensure we continue to build on the progress made in recent years. The vital federal programs that give all children an equal shot at success must continue the trend of being funded at increased levels."
The omnibus appropriations bill provides spending increases for:
Child Care and Development Block Grants ($95M increase to $2,856M)
Head Start ($85M increase to $9,253M)
Early Head-Start Child Care Partnerships ($5M increase to $640M)
The bill also maintains funding levels for Preschool Development Grants at $250M.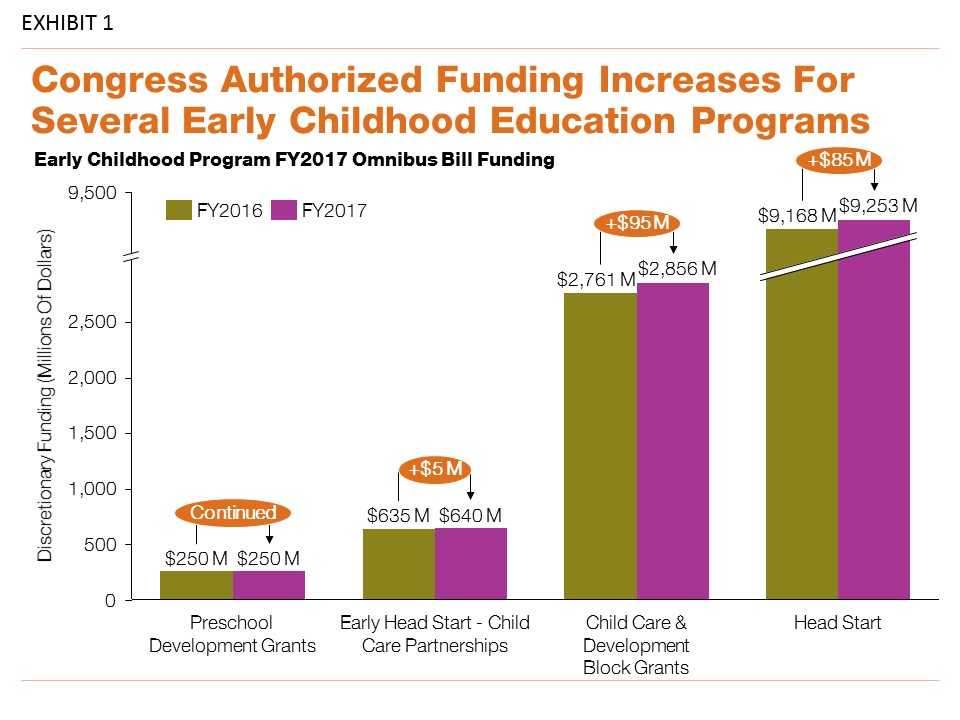 FFYF is a bipartisan organization that provides deep knowledge and resources to advocate for proven investments in federal policies that support the first five years of a child's life. To learn more about FFYF visit http://www.ffyf.org.