As 2018 comes to a close, FFYF is celebrating some of the year's biggest accomplishments for early learning and care.
While partisanship loomed large in Washington this year, one issue brought Democrats and Republicans together: early childhood education. In fact, 2018 saw a number of major policy, programmatic and funding advancements on behalf of America's young children. These gains would not have been possible without the strong support of leaders on both sides of the aisle who were willing to put political affiliation aside and work together on policies that are proven to support the education and development of children from birth through age five – particularly those from low-income families.
Take a look at FFYF's top 10 ECE moments from 2018!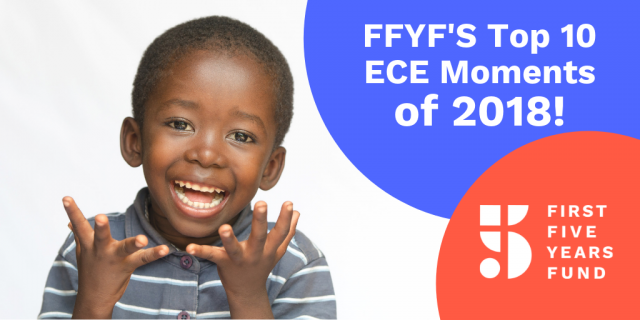 1. Reauthorization of the Maternal, Infant, and Early Childhood Home Visiting (MIECHV) Program
The Maternal, Infant, and Early Childhood Home Visiting (MIECHV) program provides federal funds to states for voluntary, evidence-based home visiting services that provide guidance to parents on improving their family's health and providing better opportunities for their children. Grantees must demonstrate measurable improvement in at least four of the following six benchmark areas: improvement in maternal and newborn health; reduction in child injuries, abuse, and neglect; improved school readiness and achievement; reduction in crime or domestic violence; improved family economic self-sufficiency; and improved coordination and referral for other community resources and supports. In Fiscal Year (FY) 2017, MIECHV served over 156,000 parents and children and provided more than 942,000 home visits.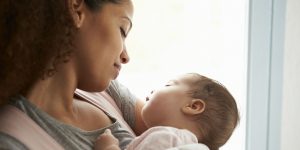 MIECHV was reauthorized in February 2018 for five years (through FY2022) at a funding level of $400 million a year. The bipartisan reauthorization sustains a critical piece in the continuum of care for children birth to age five and helps to ensure parents have the tools necessary to support their child's development.
Over many months, and certainly in the final days leading up to this deal, the FFYF team dedicated significant time and resources to amplify the importance of this issue to lawmakers. FFYF's work on this issue included the production of a home visiting video, a series of questions in our annual national poll, as well as communications efforts and messaging alongside the Home Visiting Coalition.
2. Democratic and Republican Governors Highlight Early Learning in "State of the State" Addresses
This year, Governors played an important role in advancing early learning and care agendas in their states. States across the nation are leading efforts to ensure more children, especially those from low-income families, have access to high-quality programs that support their development.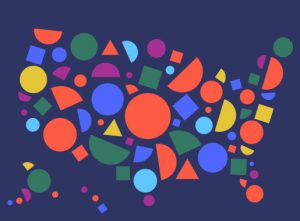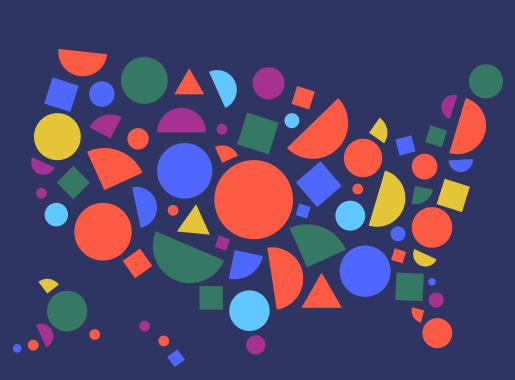 Throughout the year, Republican and Democratic governors from every part of the country used their annual State of the State addresses to highlight their commitment to, and celebrate their progress in, early childhood education. One in three governors who delivered State of the State addresses in 2018 specifically highlighted early learning initiatives. Of those, 59% were Republican governors and 41% were Democrats.
Governors' outlining early learning initiatives in their State of the State signals that this is an increasing priority for many. FFYF's analysis of state plans for the Every Student Succeeds Act (ESSA) showed that states see ECE as an integral part of their education systems and pipelines. Even with this strong commitment from states, we know that they cannot transform their birth to five systems alone. Strong partnerships with the federal government are necessary to empower states to do even more to serve children from birth through age 5, particularly those from low-income families.
3. Historic Funding Increase for Child Care and Development Block Grant Program
A deal made by Senate Majority Leader Mitch McConnell and Minority Leader Chuck Schumer as part of negotiations on the FY 2018 budget bill resulted an increase of $2.37 billion for the Child Care and Development Block Grant (CCDBG) program above FY2017 levels – effectively doubling the program's discretionary funding. Congress then appropriated an additional $50 million dollars for CCDBG in the bipartisan FY2019 funding bill.
Historically, federal child care programs were viewed primarily as a workforce support, to help low-income families work or attend school. As understanding about the importance of early learning and development has grown, however, policymakers realized that child care programs that enable parents to work also play a crucial role in supporting children's healthy development, learning, and school readiness. A bipartisan reauthorization of the CCDBG Act in November 2014 codified that recognition and takes steps to support care that positively impacts children during their formative years while also allowing parents to enter into and remain in the workforce.
Now, with the historic funding increases approved in the FY2018 and FY2019 bills, states will be able to begin implementing these important quality improvements and ensure children are experiencing the high-quality care that is proven to prepare them for school and build a foundation for a lifetime of success.
FFYF continues to collaborate with state and national advocates to highlight the ways that CCDBG funding is improving the access to quality early care in states.
4. Bipartisan Collaboration Results in Increased Funding for Early Learning and Care Programs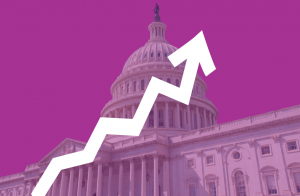 In addition to the historic funding increases for Child Care, March's Omnibus Spending for FY2018 also increased funding for Head Start and Early Head Start by $610 million over FY2017, including an expansion of Early Head Start and Early Head Start-Child Care Partnerships; and appropriated $250 million for the Preschool Development Grants program newly authorized by the Every Student Succeeds Act. These increases provide states and localities with more flexibility to improve access to high-quality early learning opportunities.
In September, Congress approved a FY2019 "minibus" appropriations package, which, in addition to a $200 million increase to funding for Head Start and Early Head Start, increased funding for the CCDBG program by $50 million, building on the historic $2.37 billion increase the program received in FY2018. This crucial funding will allow states to implement important quality improvements to child care and other early childhood programs that will better support children's development and education.
FFYF joined the Child Care and Early Learning Coalition in a letter thanking Congress for their investment in early childhood programs.
5. Childhood Trauma Supports Included in Opioid Bill
In recent years, a growing body of research has shown a clear link between childhood trauma and short- and long-term consequences to health, learning, and development. While children can experience trauma for a variety of reasons, America's opioid crisis has undeniably impacted young children. Since the start of the epidemic more children are born exposed to opioids in-utero, more children are entering foster care, and countless children are experiencing the associated trauma of having a parent or caregiver who misuses substances.
This fall, bipartisan majorities in Congress passed the SUPPORT Act which included an influx of vital resources to help patients and children affected by the epidemic. FFYF joined a community letter advocating to preserve the trauma supports for children and families in the final legislation.
While much of the money goes directly to those suffering from substance use disorder, there were also specific provisions to help children impacted by this crisis. Congress included provisions for better coordination among government agencies, as well as direct support for children who have experienced trauma. Congress' continued support of children experiencing trauma in their earliest years is vital to ensuring that children have a chance to develop into healthy, happy, and productive citizens.
6. FFYF Releases Aggregate Poll Showing Sustained Public Support for Early Learning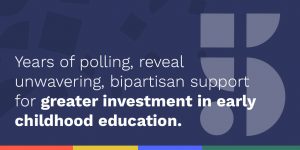 This year, FFYF released a report analyzing polls conducted over the last decade, and the result was clear: Americans across the political spectrum consistently support innovation and investment in programs and opportunities that support the care and education of children from birth through age five—particularly those from low-income families. Further, the analysis found Americans understand the value of early childhood education (ECE); identify ECE as a top priority; and support state and federal funding for ECE programs. They know what quality programs are, want them, and say they are too hard to find – and even harder to afford. Ultimately, in a political landscape marked by extreme partisanship, the results demonstrate a unique opportunity for policymakers to unite on ECE, a starting point for enabling individual opportunity and achievement that build the society all Americans want.
7. New EHS-CCP Grants Expand Access to High-Quality Early Learning for Infants and Toddlers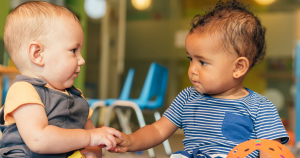 The Early Head Start – Child Care Partnerships (EHS-CCP) were first created in 2013 and since then have provided more than 32,000 infants and toddlers access to a high-quality early learning environment. Through partnerships between Early Head Starts and an array of local child care providers, EHS-CCPs maximizes the impact of federal grants and child care subsidy dollars by expanding access to high-quality child care and comprehensive supports for infants and toddlers from low-income families.
Child care providers who are awarded the competitive grants use their resources to improve quality through a variety of methods. Funds go to professional development, increases in compensation, and reduction of adult to child ratios to expand access to Early Head Start quality care. EHS-CCP funds can also help child care providers improve their infrastructure by paying costs for supplies, equipment, and facilities improvements. Earlier this year, FFYF produced a resource profiling partnership grantees and outlining the benefit of the partnerships.
Based on the success of the initial grantees, FFYF advocated for the continued funding for the partnerships. In October, the Department of Health and Human Services (HHS) Administration for Children and Families (ACF) released a funding opportunity announcement for an additional $140 million in approximately 60 grants to expand Early Head Start – Child Care Partnerships (EHS-CCPs) and Early Head Start programs.
8. Preschool Development Grant Birth through Five Program Offers States a Unique Investment Opportunity
The Preschool Development Grant Birth through Five (PDG B-5) is a new, $250 million, competitive federal grant opportunity for states and territories authorized under the Every Student Succeeds Act (ESSA). The first year of the grant provides funds for states and territories to conduct a needs assessment and strategic plan to improve their birth through five early care and learning system. Jurisdictions are asked to focus their assessments and plans around three central activities: improvements to transitions within the early learning system, coordination between existing programs, and enhancement of family education in order to improve states' overall system of mixed delivery for early care and learning.
We know that 47 jurisdictions submitted applications for the grants and are awaiting information about grantees. State's interest in these grants underscores the growing consensus that high-quality early learning and care are a vital part of children's development and a worthwhile investment for the state. Without the federal investment from PDG B-5 many states would be unable to devote the resources needed to conduct a needs assessment and strategic plan to improve their early care system.
FFYF believes that PDG B-5 are an important lever to improve early learning systems in states. To that end, FFYF has advocated for the continued funding for the grant program and has begun coordinating efforts among advocates and states.
9. Midterm Elections Show Bipartisan Nature of Early Childhood Issues
Unlike many policy issues that rely on the success of one political party for their legislative success, early childhood education has made tremendous progress in Washington over the past decade under most every possible partisan makeup of power. This election cycle, despite a deeply partisan political climate, early care and learning remained overwhelmingly bipartisan on the campaign trail. Candidates for federal and state office spoke about the need to support early care and learning throughout their campaigns.
Building off of years of progress and investment in early learning opportunities in states and communities, a vast majority of successful candidates for governor elected in November touted plans for strengthening their states' early learning and care opportunities during their campaigns. FFYF created a resource which provides an overview of each governor-elect's early education support. Each profile includes relevant policy initiatives, campaign pledges, and public comments each official has made regarding critical early learning and care issues in their state.
Moving beyond this election and in anticipation of a new Congress, there is a strong, bipartisan foundation of support and understanding among lawmakers on early childhood education. With this foundation in place, FFYF will work with its partners, longstanding Congressional supporters, and new Members to ensure this momentum is maintained and expanded. In the coming weeks and months, FFYF will work with lawmakers of both parties and the administration to showcase opportunities and recommendations for policy solutions to make progress on early childhood education.
10. FFYF Gets a Brand-New Brand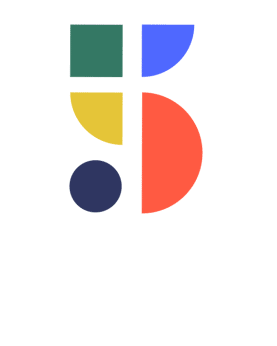 Over the last ten years, the First Five Years Fund has committed to a bipartisan approach to advocacy to advance numerous policies, programs, and priorities with one goal in mind: ensure that all children, especially those from low-income families, have access to high-quality early childhood opportunities that help them reach their full potential.
This year, we decided to embark on an update to both our logo and our website. While FFYF's website and logo may look a bit different at first glance, our mission and our work remain the same as when we were founded ten years ago.
Our brand-new website was designed to serve as a functional – and beautiful – resource for policymakers, influencers, advocates, and others to equip them with the latest and greatest in early childhood education. The site includes extensive research and evidence supporting the need for a greater investment in ECE; frequent updates on the programs, policies, and political opportunities that exist at the federal level; and the latest news on advancements in early learning across the country.
We were also proud to unveil our new branding, which centers around a number "5" made up of geometric shapes varying in size and color. FFYF's new logo is suggestive of early childhood development, and the geometric layout creates a sense of dynamism that reflects the nimble nature of our work.
In 2019, FFYF is excited to work with our advocacy partners, as well as new and returning allies on Capitol Hill, to continue expanding its investment in high-quality early childhood education.