The Urban Institute and the Robert Wood Johnson Foundation's Policies for Action Hub (P4A) hosted an event last Wednesday to discuss the hub's latest findings on the impact of early childhood education on health and well-being.
Building the Evidence Base
Among the featured speakers at the event was Dr. Sherry Glied, Dean and Professor of Public Service at NYU's Robert F. Wagner Graduate School Public Service. Dr. Glied's research found the launch of New York City's Pre-K for All program led to improved health outcomes for low-income children.
To arrive at this outcome, Dr. Glied and her team of researchers at New York University analyzed Medicaid data for New York City children who were eligible to enroll in pre-k versus those who just missed the cutoff because of their age. The researchers found that children eligible for pre-k were more likely than their peers to be diagnosed with asthma or vision problems after the rollout of the pre-k program. They were also more likely to have received immunizations, screenings for infectious diseases and, consequently, treatment, than their peers.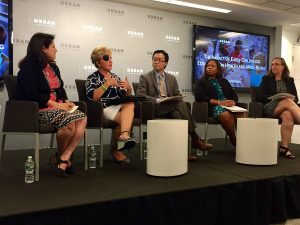 Due to the special design and nature of NYC's Pre-K for All program, requiring screenings, immunizations, and more, researchers concluded that early childhood education did in fact show a positive impact on the health and well-being of children in the study.
Future research has the ability to dig deeper and link actual enrollment and health for better estimates. And ongoing evaluations can integrate pre-k quality metrics and assess the new 3-K for All program, which was announced in April of this year.
In addition to Dr. Glied's presentation, Rich Neimand, President of the Neimand Collaborative, spoke on behalf of the Heckman Equation and the research of Nobel laureate, Professor James Heckman of the University of Chicago.
Heckman's latest study looks to quantify the long-term benefits of early childhood education, and focuses on a cost-benefit analysis of the Carolina Abecedarian Project (ABC) and the Carolina Approach to Responsive Education (CARE). The researchers found that elements of early health and learning in early childhood programs produced a 13% return on investment per child, per year. Additionally, Children who received treatment had significantly better life outcomes, such as health, quality of life, participation in crime labor income, and IQ, than those who received lower quality care. Ultimately researchers came to the conclusion that "there's more to gain by taking a comprehensive approach to early childhood development."
Turning Research into Action
The second group of panelists spoke to the importance of bringing researchers and policy makers together to create evidence-based early childhood programs.
Speakers included:
Laudan Aron, Senior Fellow, Center on Labor, Human Services, and Population, Urban Institute
Lisa Dubay, Senior Fellow, Health Policy Center, Urban Institute
Danielle Ewen, Senior Policy Adviser, EducationCounsel
Gayle Manchin, West Virginia Secretary of Education and the Arts
Tonja Rucker, Program Director, Early Childhood Success, National League of Cities
Margery Austin Turner, Senior Vice President for Program Planning and Management, Urban Institute
Albert Wat, Senior Policy Director, Alliance for Early Success
Albert Wat, policy director for the advocacy group, Alliance for Early Success noted that early childhood can be a health strategy. And Tonja Rucker, program director, early childhood success at the National League of Cities added that it is important for policymakers to see and hear firsthand the success that is happening in cities across the country. This not only gets their "competitive juices" flowing, as Tonja puts it, but also helps highlight the need for greater federal investment in early care and learning programs.
To learn more about the impact of early childhood education on health and well-being, watch the full event here.