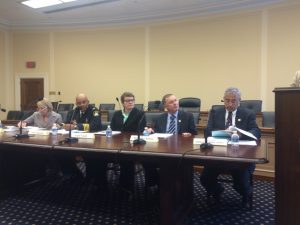 Earlier this week, I presented at a bipartisan congressional briefing hosted by Reps. Bobby Scott (D-VA) and Richard Hanna (R-NY). The panel addressed the importance of investing in high-quality early childhood education and included representatives from the National Association for the Education Young Children (NAEYC), Fight Crime: Invest in Kids, and the Office of Head Start at the United States Department of Health and Human Services.
I pointed out the overwhelming research base supporting the need for increased investment in and expanded access to early childhood education. For example, Nobel Prize-winning economist, James Heckman, explains that investing in high-quality early learning programs for disadvantaged children yields a 7-10 percent return per child, per year through improved education, health, social, and economic outcomes, as well as the reduced need for spending in other social programs. Compare that to investing in the Dow Jones or S&P 500, both of which had an annual return of about six percent over the last 40 years.
Research shows that quality early childhood education leads to a wide range of short- and long-term benefits, including better educational outcomes, higher job earnings, better health outcomes and lower crime and delinquency rates.  My fellow panelists also pointed out a dismal figure – one in every four American children are born into poverty. That is why the bipartisan Strong Start for America's Children Act, sponsored by Reps. Scott and Hanna, is an important bill for Congress' attention.
Early childhood education is not a partisan issue. A bipartisan poll conducted last year showed that 71 percent of voters, including 60 percent of Republicans, support greater federal investment in early childhood education, even if it increased the deficit in the short term.
During this briefing, attendees were able to learn about what cops and prosecutors already know, teachers and business leaders already see, and scientists and economists have already proven. When children participate in high-quality, early learning programs they do better in school, get higher-paying jobs, rely less on social programs, live healthier lives, and contribute more money to the national economy.
I'd like to thank Reps. Scott and Hanna for being such strong champions on this issue and my fellow panelists for helping make the case. The First Five Years Fund looks forward to continuing our work with members of both parties to increase federal investments in early childhood education. Simply put, when we invest in them, we invest in us.