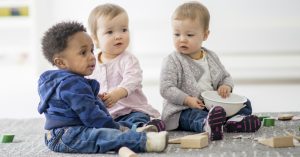 A new report released today by Dr. Jack Shonkoff at Harvard University's Center on the Developing Child is the latest in an ever-growing bibliography of research supporting a greater investment in quality early childhood education and development. This report, however, "presents a call to action to launch a new era of research & development (R&D) in early childhood policy and practice in order to dramatically improve outcomes for young children and families—especially those dealing with serious adversity."
As The Atlantic reports, ultimately, Shonkoff and his colleagues call for "a research and development (R&D) approach that transcends partisan disagreement because it is built on a rigorously peer-reviewed, science- based understanding of how the foundations of learning, behavior, and health are built or weakened over time."
According to Shonkoff, the current system of, "We'll give you funding to test this specific policy intervention and if you can prove it worked in three years, we'll give you more," is flawed. We know we have to address the first five years of life and, that by doing so, we are making a difference. So how can we drill down to benefit from the recent advances in scientists' understanding of the way young brains grow? Shonkoff suggests we must create and test early childhood interventions that so far haven't had the space to test, fail and try again, in order to determine which of the interventions and programs are working best for which people, and how can they be replicated. Dr. Shonkoff uses the example that there is not one single treatment for cancer, but we know we have to beat it. Similarly, in early childhood developement, we have reached a place of needing to "put effective programs in place to help reduce the widening gaps between children who are born with a lot and those who are born with little."
Earlier today, FFYF's Kris Perry published an op-ed with Medium, highlighting three recent reports that call for a greater investment in quality early care and learning programs.
"In short, it's time to stop debating and start moving forward with innovation, experimentation and evaluation," Perry writes.  "We can learn by doing instead of talking. We can share the results and bring promising programs to scale. And, if you need proof of that possibility, you wouldn't be reading this on a computer or phone if Steve Jobs, Tim Berners-Lee and Bill Gates gave up because version one wasn't as good as their vision for version ten. Social innovation takes the same kind of vision, persistence and guts. We all need more of that given what's at stake for our children."
Read more about Dr. Shonkoff's new report, From Best Practices To Breakthrough Impacts, online here. And check out Kris Perry's piece, Yes, preschool works. Let's make it work for more children. online here.
Yes, #preschool works. Let's make it work for more children. https://t.co/wziBtifwmI @firstfiveyears @Medium #EarlyEd #ECE

— Kris Perry (@kmpperry) May 4, 2016