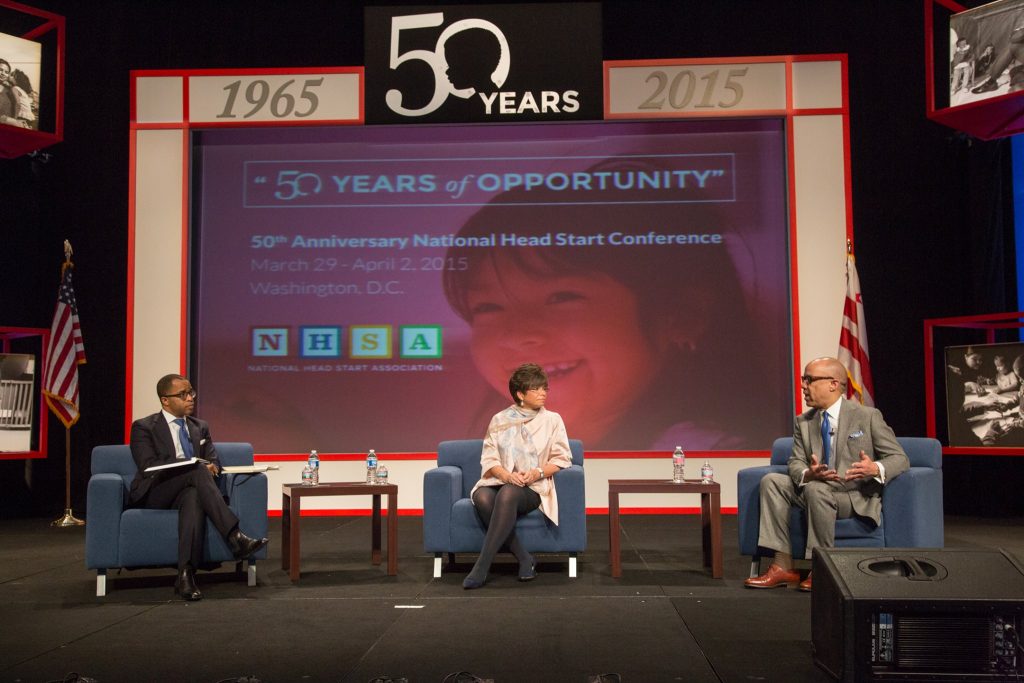 On the 50th anniversary of Head Start, we were thrilled to join National Head Start Association (NHSA) at their annual conference for an engaging conversation between Valerie Jarrett, Darren Walker and The Washington Post's Jonathan Capehart on the importance of investing in our children from birth to age five.
Today, there are more than 32 million Head Start alumni – an incredible feat. Darren Walker, president of Ford Foundation, is among them. Raised by his single mother in a rural Texas town, Darren shared that having access to an early learning program gave him a strong start in life and "a window into a world beyond my immediate circumstances." Not only is that heartening to hear, but it also rings true for millions of low-income children enrolled in early childhood education programs across the country.
We couldn't have agreed more with Valerie Jarrett, Senior Advisor to President Barack Obama, when she exclaimed "Every single child should have access to high-quality early childhood education regardless of their parent's income."
Valerie also stated something that we've highlighted before – 36 governors, in red and blue states alike, have discussed investing in early learning in their State of the State addresses this year. It's true that states are keeping up momentum for early childhood education by increasing access and improving quality, but they can't do it alone. Federal investments are a critical piece of the puzzle. And like all three panelists mentioned, these smart investments pay off through improved education, health, social and economic outcomes.
Thank you to NHSA for hosting this important conversation that has shed light on the role we all play, whether as philanthropists, advocates, business leaders or elected officials, in building a better nation through investment in high-quality early childhood education.
We're looking forward to another 50 years of innovating and improving on Head Start programs. Our hope is that increasing evidence and success will continue to elevate early childhood education as a priority issue for our nation's policymakers. Like Darren Walker said, we have the knowledge, but the question we must now ask ourselves is: "Do we have the will to make those investments and yield returns?"