The following post originally appeared on the Department of Health & Human Services, Administration for Children & Families blog.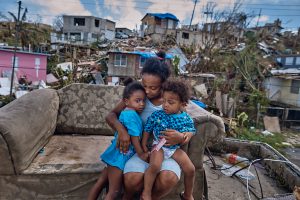 By Steven Wagner, Acting Assistant Secretary for Children and Families
Two weeks ago I traveled to Puerto Rico to meet with leadership from every Puerto Rico and U.S. Virgin Islands Head Start and Early Head Start program. They had all been personally affected by the devastation left by Hurricane Maria, but they arrived at the meeting full of energy, fiercely determined to find creative ways to restore Head Start and Early Head Start services within their municipalities.
During our meeting, they told us their stories. In the immediate aftermath of Maria, Head Start staff had mobilized and made herculean efforts to reach every family to assess their immediate needs, finding families in their homes and in shelters. In some communities it took over two weeks to physically locate every family. Programs in many areas are still responding to ongoing requests from parents for basic needs: food, water, formula, diapers, wipes, clothing, cleaning supplies and tarps.
Across the island, the main barrier to reopen Head Start centers was power — in the week around my visit, Head Start staff had toured over 20 centers, and only two had generators and less than five had power. Centers without power or water but with undamaged or minimally damaged centers have resumed services when possible with reduced hours and cold meals. The centers that do have power and water have resumed services in a strategic way, typically delivering at least two sessions per day. All of the centers were searching for ways they could serve the largest number of children.
The stories were heard from Head Start leaders were particularly moving, because while they were reaching out, comforting families and trying to meet these families' basic needs, they had themselves experienced devastating losses. While the total losses and major damages to Head Start centers were major concerns, their first priority was addressing the health and mental health needs of impacted families and staff.
After the meeting with leadership, we toured the municipalities of Isabela and Utuado.
In Isabela, the recently renovated Head Start center will never reopen — the roof had blown off and the walls were speckled in black mold. The local community center offered their space to temporarily house the Early Head Start program, and when we visited it was full of infants and toddlers. Dedicated staff created a safe nurturing environment that restored normalcy in the lives of children, at least for a few hours each day, during the daylight.
As we drove to Utuado the devastation was even more apparent. Few electrical posts were left standing and piles of debris covered the sides of the road. A major bridge was totally washed away, leaving many families without access to the town. We visited a makeshift shelter, donated by a local church where relief workers were packing up groceries, diapers, and safety kits and delivering them to families. The Mayor of Utuado, a former Head Start child, had been sleeping in his kitchen since Maria, because it was the only safe room in his home. He told us he was determined to rebuild his community – they had made progress to resume Head Start services because he knew first-hand how much Head Start benefits children and families.
Before we left, we met with Governor of Puerto Rico Ricardo Rosselló and the Secretaries of Education, Family Service and Housing to identify strategies to leverage existing resources and support the re-opening of Head Start centers across the island. Even before we headed home, our federal staff was on the ground pursing the ideas and solutions we discussed with the Governor and his staff.
While the recovery will not be easy or quick, we saw the strong leadership and commitment at all levels to restoring Head Start and Early Head Start across Puerto Rico and the U.S. Virgin Islands. While the Head Start program on Puerto Rico and the Virgin Islands will not look exactly the same as it did before the storms, we are committed to making it even stronger.