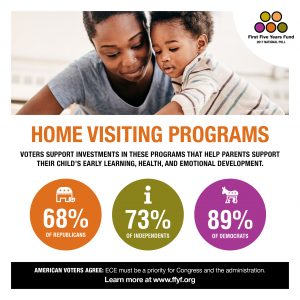 Last night, the House of Representatives passed a short-term government funding bill to keep the government funded beyond the midnight Thursday deadline. Included in the bill – known as a Continuing Resolution (CR) – were a number of bipartisan health care provisions and "extenders," including funding for community health centers (CHCs), delayed cuts to safety net hospitals, and more. However, the House bill did not include a reauthorization for the Maternal, Infant, and Early Childhood Home Visiting (MIECHV) program, which surprised many advocates and lawmakers on both sides of the aisle. Like so many of the "extenders" that were included in the House's CR, MIECHV expired in September, so states and providers will soon be forced to turn families away from accessing the life-changing – and often – life-saving voluntary home visiting services.
So where do things stand now?
Following the release of the House bill that omitted MIECHV, advocates sprang into action to ensure the leaders of the Senate included a long-term MIECHV authorization in it's CR. Because a bill to fund the government – even temporarily – must be approved by both chambers of Congress, it is critical that the Senate put MIECHV reauthorization back in the CR, after the House separated it from the rest of the "extenders." Many senators stated publicly their desire to reauthorize this vital program as part of the Senate's short-term spending bill. And we are hopeful, given statements from Senate leaders that they are committed to moving MIECHV reauthorization over the finish line.
If the Senate does include MIECHV in its CR, the bill will go back to the House with any other changes made by senators, where there is expected to be little objection to MIECHV's inclusion. If MIECHV does not make it into the short-term spending bill, we will continue fighting for the next opportunity to act on MIECHV.
Unfortunately, state and local programs that provide voluntary home visiting services are already beginning to feel the impact of Congress' delay.
Nancy Krause, statewide early childhood director at Lutheran Services in Iowa, spoke to the Chronicle of Social Change about what impact the MIECHV delay could have (and already has had) in Iowa.
"One of the real possibilities, if this does not get reauthorized in the next continuing resolution, is that programs may have to suspend the enrollment of new families. There are real ethical concerns if we do not have a guarantee that we will be able to serve families on a long-term basis.

"There is also potential there would be hiring freezes as a result of this. A lot of states have had carryover money that's helped programs to continue without reauthorization. The reality is, we're at point where it now has to be reauthorized or we won't be able to plan into the future without it."
Check back for more updates on where things stand.