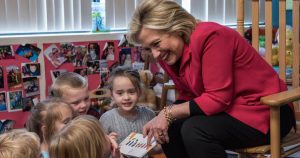 As an organization that works with both parties to increase opportunities at the federal level for low-income children and their families, we have witnessed firsthand the bipartisan nature of addressing this issue. In recent years, Congress has both increased investments in core early childhood programs and addressed policy changes that increase quality and access for children who need it most. And this comes largely in response to the groundswell of support and leadership at the state and local level – all of which is backed up by extensive national polling.
Yesterday, Hillary Clinton detailed pieces of her campaign agenda aimed at supporting children from birth to age 5 and their families. At an event in Lexington, Kentucky, Secretary Clinton discussed the success of, and bipartisan support for evidence-based voluntary early childhood education and development – as well as the need for a greater investment in programs that support America's low-income children.
One key focus of the event was Secretary Clinton's plan for the Maternal, Infant, and Early Childhood Home Visiting program (MIECHV), a federal parent education program that helps new parents support their child's early learning, health and emotional development.
MIECHV ensures that high risk families across the country receive the services we know make a difference in the lives of children. MIECHV assists expectant mothers in finding prenatal care, provides families with health and development education, and works with families to set goals that will create better opportunities for their children. The MIECHV program served families in 787 counties nationwide in fiscal year 2014 (FY14). In March of 2015, a bipartisan majority of Congress voted to reauthorize the program for two additional years. Federal support for programs like MIECHV increase states' capacities to bring important resources to disadvantaged children and families.
Clinton also laid out her plans to improve the quality of child care, increase access to high quality early childhood education, and expand America's investment in Early Head Start and the Early Head Start-Child Care Partnership program.
The programs and systems that Secretary Clinton is discussing enjoy longstanding bipartisan support at every level of government. Recently, Congress' support for early childhood education has reached a historic level with the reauthorization of the Child Care and Development Block Grant Act of 2014, the inclusion of a dedicated funding stream for early learning with in the Every Student Succeeds Act, and more. Additionally, governors from Red and Blue states alike are expanding their investment in the care and education of their youngest children.
FFYF views federal home visiting and early care & learning as means of supporting our most at-risk kids. Focusing on the needs of children not only helps provide them with an opportunity for a better future, it benefits their families – and society. We truly hope to see more candidates and elected officials speak out about their policy solutions aimed at creating a better tomorrow for America's greatest natural resource – its children.