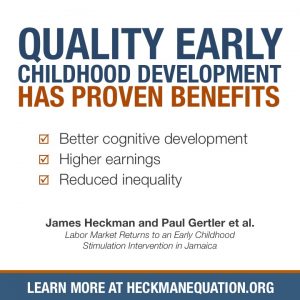 On Friday, GOP and Democratic leaders in the House and Senate announced they have reached an agreement to reauthorize the Child Care and Development Block Grant Program (CCDBG), and today the bill passed the House on a voice vote. The legislation is expected to also pass in the Senate this week. The fact that leaders from both parties were able to come together and pass a good, bipartisan bill is a great victory. In the current political environment, it can be a challenge to get Congress to agree on anything, so the fact that consensus has been reached to enhance health and safety as well as implement some new quality improvement measures is cause for celebration. It shows that elected officials are hearing the voices of voters who want early childhood education to be a priority. The reauthorization of CCDBG is a good first step toward a larger early learning expansion. There is still more work to be done, but this bipartisan bill moves our country forward in the right direction. Key highlights of the CCDBG Reauthorization include:
Recognizing the important role of child care providers in a child's development by increasing the consistency of care. Children who initially qualify for a subsidy get care for a year, regardless of changes to family income or work, training, or education status.
Strengthens safety in child care settings by requiring all providers to undergo annual inspections.
States must set aside three percent of funding to expand access and improve the quality of care for infants and toddlers.
In response to recent studies showing a disparate rate of expulsion of minority children from early learning settings, the bill requires provider training on child behavioral supports to reduce expulsions from early childhood programs and reporting on state expulsion policies.
Increases the likelihood that private providers will accept children on subsidy by de-linking provider reimbursement from child absences. Currently in many states, providers are not paid for days in which subsidy children are absent (such as for illness), creating an unpredictable cash flow and difficulties running their child care business.
Provides a 16.5 percent increase in authorized funding over 6 years, compared to a Fiscal Year 2014 baseline.
Click Here for a more complete summary and full text of the bill.