Childcare costs have surged more than twice the pace of overall inflation since 1990. And now a new Washington Post poll shows just how the rising cost of childcare affects families across the country. Not only is childcare expensive, but also hard to find, leaving a surprising number of parents scaling back at work to care for their children. Three-quarters of mothers and half of fathers in the U.S. to be exact.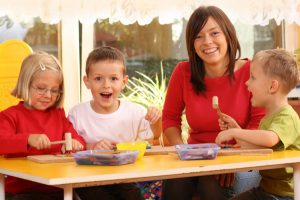 The poll asked mothers and fathers several questions related to cost as well as the availability and quality of childcare options. Among parents polled, seventy-four percent of parents found childcare in their area to be "somewhat" to "very expensive." Fifty-three percent of parents had an overall difficult time finding quality and affordable childcare options. Additionally, fifty-one percent of parents polled said they would endorse federal requirements to give parents flexible work schedules compared to leaving the decision to employers.
While many parents would like to continue to work, they simply can't afford to do so. Flexible, high-quality childcare options provide families with peace of mind knowing their child is being taken care of while they are at work. This poll not only brings light to an important issue for parents, but is also indicative of the topic of conversation among presidential candidates in the coming months.