Yesterday Invest In US had the incredible opportunity to spend the afternoon with former NBA superstar Steve Nash, who, with his family, founded the Steve Nash Foundation to assist underserved children in their health, personal development, education and enjoyment of life.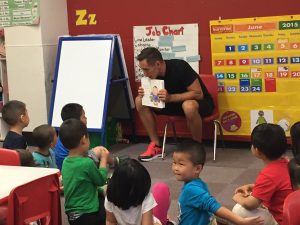 The Steve Nash Foundation focuses its resources on underserved populations of children across the United States and Canada, and around the world. Areas of focus include early childhood development and health, and neuroscience around child abuse and neglect, with a goal of improved outcomes for children of all socio-economic backgrounds.
We met Steve at the historic Henry Street Settlement, a social service agency in the Lower East Side neighborhood of Manhattan that provides a wide range of services to New Yorkers of all ages – including high quality early care and learning for children age 0-5.
Steve spent time with a class of 4-year-olds, and read one of his personal favorites – "Ten Little Fingers and Ten Little Toes." We then joined a classroom of 3-year-olds who were engaged in a number of activities, from puzzles to blocks to painting.
Later that evening, Invest In US joined Steve and a few dozen NBA greats and soccer stars from around the world for the 8th Annual Steve Nash Foundation Showdown. Every year, Steve brings his passion to play in this innovative soccer match raising funds for critical needs services for kids.
We're incredibly grateful to Steve and his Foundation for spending the day with Invest In US, but even more so for his commitment and dedication to expanding opportunities for disadvantaged children.
Stay tuned for more from Steve Nash and Invest In US!