President Obama made a smart call in the State of the Union address. It's time to take action on providing greater access to quality early childhood education. Science, economics and strong, bipartisan support indicated that we can and should act today to create a better tomorrow.
The public clearly sees the value of early childhood education. A new NBC/Wall Street Journal national poll finds that access to preschool education is top issue for voters along with improving the economy and reducing the deficit. In fact, a stunning 85% of respondents said that early childhood was an absolute priority; a full 63% saying it should be done this year. This mirrors the strong bi-partisan support of a recent national poll conducted by FFYF, where early childhood education surfaced as the second highest priority for voters after creating jobs.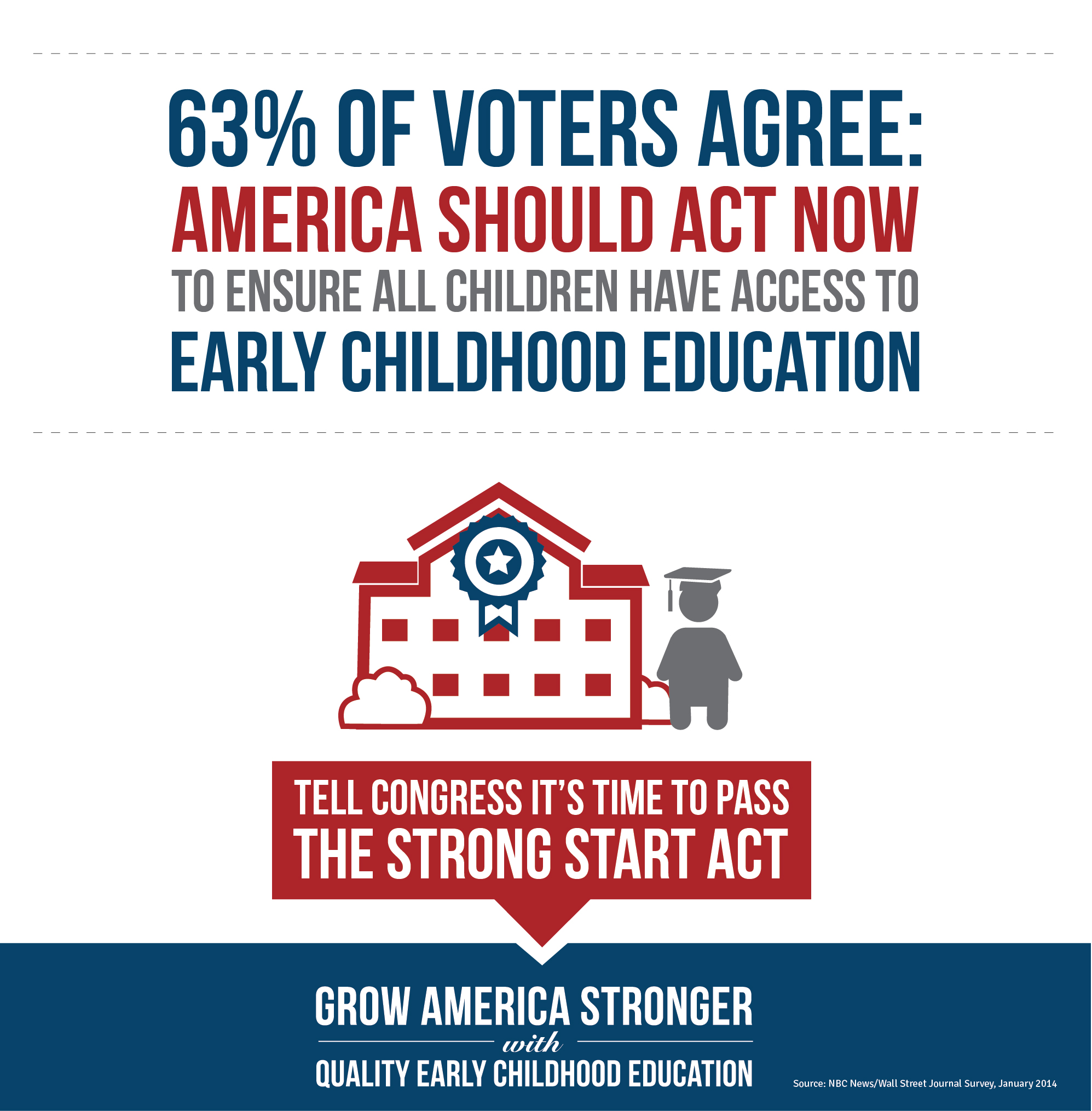 While evidence of strong bipartisan voter support for investments in early education is obviously an incentive for action, it's supported by an overwhelming body of research-based evidence that shows can improve our economy and reduce deficit spending.
Disadvantaged children who receive quality early childhood education are 33 percent more likely to be employed and earn on average $5,500 more per year than their peers who didn't participate in early learning programs. These improved outcomes benefit all of society and the entire economy. In fact, research has found that every dollar invested in early childhood programs returns 7 to 10 percent – per child, per year – for the life of the child through increased productivity and reduced social costs.
Fortunately, policymakers and elected officials around the country understand that early childhood education has value for children, families and taxpayers.
Republican and Democratic governors and mayors—elected officials who must balance budgets with wise investments—are investing in early education programs that fit the needs of their states and communities.
The Strong Start for Children Act currently proposed in Congress will help states and localities continue their innovation in early childhood education programs and provide low and moderate income families with greater access to quality early childhood programs that produce better education, health and economic outcomes for individuals and society.
President Obama called for greater investments in early childhood education in his 2013 State of the Union address. Last July, FFYF commissioned a bipartisan poll that showed overwhelming support for Congress to take action now. The new NBC/Wall Street Journal poll shows even greater voter demand for action. And President Obama has once again called for action in his State of the Union address. No, it's not Groundhog Day. It's time for Congress to act on the public's call by passing the Strong Start for America's Children Act.