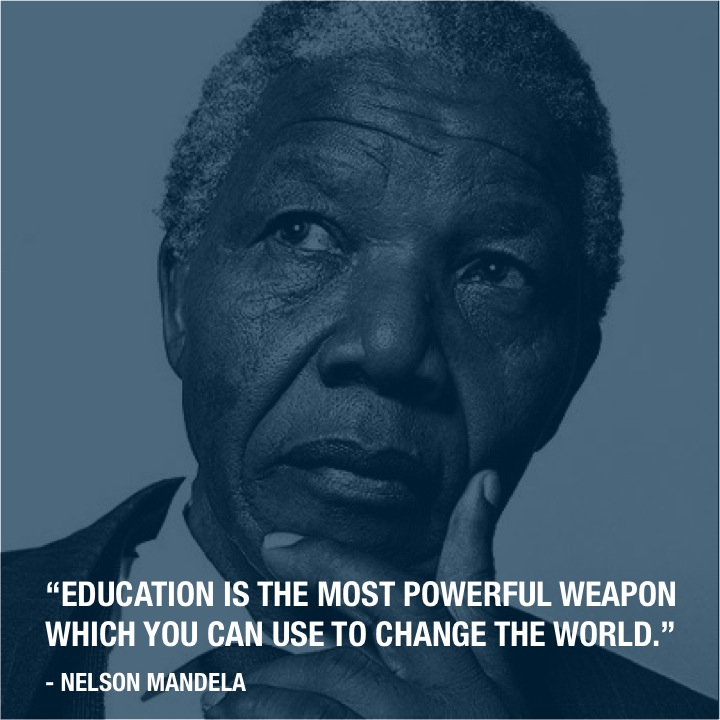 Two things happened last week.
The world lost Nelson Mandela, who campaigned for equality and said "it always seems impossible until it is done." Earlier in the week, Programme for International Student Assessment (PISA) test scores were released, revealing two disturbing trends. American high school students in the aggregate are falling behind their international peers, and the U.S. has a growing achievement gap between affluent and disadvantaged students.
The PISA results set off a week of hand wringing, complaining and recriminations. Some of it was warranted. After all, for better or worse, PISA scores are seen as an indication of a country's ability to produce an economically competitive workforce—and it is one measure of how well countries are using education as an opportunity to close the skills gap between the haves and have nots.
Most of the discussion in the U.S. centered on the problem. The furies of futility were released from the usual chorus of polarized ideologies: America's public education system is failing; poverty is making public education fail; we can't solve inequality. All this feeds the inevitable conclusion that nothing is possible these days. The problems are too big, the people too far apart and the remedies are unavailable.
Not true. Not by a long shot. The solution is right there in the PISA report. It shows that America's leaning tower of PISA scores can be righted by employing quality early childhood education as the strong foundation for greater education achievement and equality:
Across OECD countries, students who reported that they had attended pre-primary school for more than one year score 53 points higher in mathematics – the equivalent of more than one year of schooling – than students who had not attended pre-primary education.
In fact, the OECD's Secretary-General Angel Gurria repeatedly mentioned the importance of early education during the release of the 2012 results.
Poverty is a factor in student performance, but it is not insurmountable. We have a solution from the work of many early childhood programs, countless early childhood advocates and practitioners—and the research of Nobel laureate economist James Heckman. While we may not be able to solve for income inequality by redistributing wealth, we can provide greater equality in the predistribution of opportunity through quality early childhood education to disadvantaged children. Again, the PISA report notes:
Australia, Canada, Estonia, Finland, Hong Kong-China, Japan, Korea, Liechtenstein and Macao-China combine high levels of performance with equity in education opportunities as assessed in PISA 2012.
The great irony here is that other countries—many less wealthy than ours—are making upward mobility possible through early childhood education while too many in the United claim such critical investments are impossible.
Nonsense. Access to quality, birth to five early childhood education is only impossible in the United States until we get it done. All it takes is each of us to find our inner Mandela. The future looks more promising than grim.
President Obama has made early childhood education the centerpiece of his call to reduce inequality in the United States. Congress has introduced the Strong Start for Children Act. Democratic and Republican state governors—east, west, north and south—have embraced early childhood education as means to improve education, health and economic outcomes.
This week, more than 500 Republican and Democratic state legislators from all 50 states signed a letter supporting the Strong Start for Children Act. FFYF's bipartisan public opinion poll shows that an overwhelming number of voters believe we should do more to help children get a strong start in kindergarten and life—and that Congress should act now to make it a reality.
America can stop the growing inequality in skills. We can boost achievement among children from all walks of life. We can reduce inequality through opportunity. And, we can retain our competitive advantage in the global economy. Quality early childhood education is the practical, not impossible, solution.
Let's get it done.