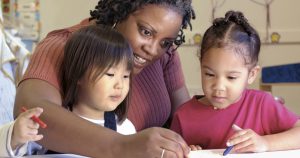 As part of the $570 million increase for Head Start in the FY16 Omnibus spending bill, the Office of Head Start (OHS) has announced that $294 million in competitive grant funds are now available for application to all eligible grantees across the country. In response to research demonstrating the lifelong gains of having access to high-quality early learning opportunities, OHS has made the supplemental funds available specifically for extending the duration of the Head Start day. By extending the Head Start day, more children will have the opportunity to access full-day, full year high-quality early learning without disruption to their continuity of care. The supplemental funds would go towards increasing the number of annual hours that center-based and family child care centers can provide. Migrant and Seasonal Head Start Grantees are also eligible to apply, and would be exempt from having to provide services for the otherwise 8 month minimum due to their unique program structure.
Increasing learning time for young children during this critical stage of development is an important piece for supporting children's school readiness. The minimum number of hours offered by Head Start is currently 448 hours over the course of a year. Less than 40% of center-based Head Starts offer 1,020 annual hours where children are accessing direct classroom services. With limited instructional time in classroom settings that may include as many as 20 children, children stand the most to gain from Head Start Grantees applying for this grant. This will mean more time for intentional learning opportunities in small groups and one-on-one interactions across multiple domains of learning and development. In addition to accessing more opportunities to be academically ready for kindergarten, children enrolled in full-day, full-year Head Start programs will enter kindergarten already adjusted to the full-day, full-school year schedule.
The benefits for young children from low-income backgrounds are clear and abundant, and the supplemental funding opportunity would greatly benefit working families, as well. Several early learning programs blend and braid funding with multiple funding sources, such as Head Start and the Child Care Development Fund (CCDF). By doing so, these programs have been able to assemble full-day services where portions of the day are funded by different funding streams. One outcome now made possible by the supplemental funds would include increasing Head Start hours to programs that utilize blended and braided funding so that service hours could extend beyond the conventional business day. If early learning programs could offer both the high-quality of Head Start Program Performance Standards and services that extend into later evening hours, then this would support parents who work nontraditional hours, as well as increase parent choice. By applying for the supplemental funding to extend Head Start hours, Head Start grantees can play a critical role in supporting the learning and development of young children from low-income backgrounds, in addition to supporting parents to both enter and remain in the workforce.
Eligible grantees must complete the Duration Supplement Amendment, which is available on the Head Start Enterprise System, along with providing an Application and Budget Justification Narrative. Head Start grantees that operate less than 40% of their center-based funded enrollment for a full school day and full school year schedule (1,020 hours of planned class operations over the course of a minimum of eight months per year) are eligible to apply. Early Head Start grantees that operate less than 100% of their center-based funded enrollment at 1,380 annual hours of planned class operations are eligible to apply. The deadline to apply for this grant opportunity is Friday, June 24, 2016. To learn more about applying, please read the Program Instruction from the Office of Head Start here.