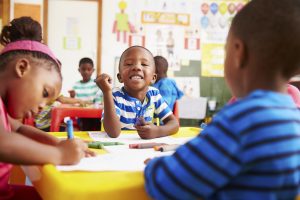 For years, the state of Alabama has been a strong champion of early childhood education, and has received high praise for its First Class Pre-K program. Now, new data details the deep impact of the state's program, showing a strong return on investment.
The Alabama Department of Early Childhood Education's new data shows the state's pre-k program is not only closing school readiness gaps, but that low-income students are less likely than their peers to be absent or repeat a grade later in elementary school. Additionally, children who received Alabama's First Class Pre-k program were more likely to be ready for kindergarten and were more likely to be proficient in ready and math.
Governor Bentley has been a champion of early childhood education for many years, expanding pre-k classrooms throughout the state and increasing funding streams. He also recently opened up the National Governors Association Winter Meeting to highlight the importance of such an investment and urged other governors to do the same.
Read more Alabama's early childhood achievements here.