As the COVID-19 crisis continues to wreak havoc, new data is exposing the unique challenges of child care providers and casting doubts on the industry's ability to recover without significant relief. New analysis of survey data from the National Association for the Education of Young Children (NAEYC) paired with data on child care deserts from the Center for American Progress (CAP) shows that nearly 4.5 million child care slots will be eliminated if significant assistance doesn't reach child care providers soon.
Before this crisis began, working families were already struggling to find and afford quality child care, with over half of Americans living in areas where there are more than three children under the age of 5 for each licensed child care slot. Stay-at-home orders in nearly every state have led to half of child care facilities in the country closing as a result of catastrophic declines in enrollment, with most providers saying they won't survive a closure of more than two weeks. Widespread, permanent child care closures will leave millions of parents without the care they relied on before the crisis, with many having no access to care whatsoever.
This new analysis from CAP suggests, "If providers do not receive significant support while they are closed for more than two weeks, roughly half of U.S. child care capacity is at risk of disappearing".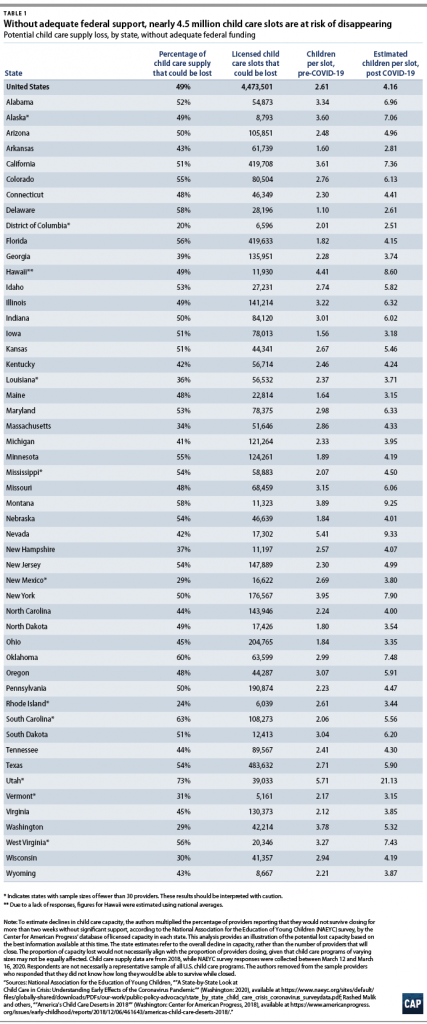 In addition to the proven benefits for a child's healthy development, working families depend on access to quality child care so they can work or attend school. Economic recovery will not be possible if substantial investments are not made in the child care industry on which every other industry depends. What's more, Congress should take this opportunity to, "do more than just return the child care system to the inadequate state it was in before the COVID-19 pandemic. Instead, they should build a better future by making a long-term commitment to significant public funding for this critical sector of the economy in order to ensure that all Americans can access the high-quality child care they need."
Read the analysis from CAP online here.