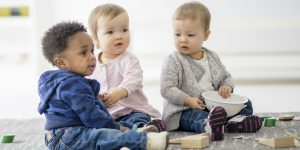 A number of national organizations, led by the Pritzker Children's Initiative, announced this week that they will work with twenty-nine communities across the country to focus on high-quality care for infants and toddlers.
The National Association of Counties, National League of Cities, Center for the Study of Social Policy, National Institute for Children's Health Quality (NICHQ) and Strive Together each selected community partners that are demonstrating a commitment to ensuring children have a strong start in life. The partnership is funded by the Pritzker Children's Initiative (PCI), a project of the J.B. and M.K. Pritzker Family Foundation and a funding partner of the First Five Years Fund. The Sorenson Impact Center, housed at the University of Utah's David Eccles School of Business is working with PCI and the partner organizations to manage the initiative. Each partnership will work together with the goal of building on current efforts at the local level. The initial investment will begin at $6.5 million, with additional funding to follow.
Through this effort, communities across the country will work together to take action to increase high-quality services for children from birth to age three toward a common goal of kindergarten readiness. Research shows investments in the first three years of life, when a child's brain develops faster than at any other time period, are most critical in helping more children become more confident, empathetic, contributing members of their communities.
Below is a list of communities that are involved in the initiative, as well as their national partners:
National Association of Counties
Boone County, MO
Champaign County, IL
Dauphin County, PA
Pierce County, WA
Ramsey County, MN
Washington County, VA
Watauga County, NC
Tarrant County, TX
Center for the Study of Social Policy
Boston, MA
Denver, CO
Guilford County, NC
Los Angeles County, CA
Kent County, MI
Multnomah County, OR
Orange County, CA
Onondaga County, NY
Ventura County, CA
Volusia and Flagler counties, FL
National League of Cities
Austin, TX
Baltimore, MD
Chattanooga, TN
Cleveland, OH
Denver, CO
Minneapolis, MN
National Institute for Children's Health Quality and StriveTogether
Albuquerque, NM
Memphis, TN
Norwalk, CT
Salt Lake City, UT
Spartanburg County, SC
Tucson, AZ