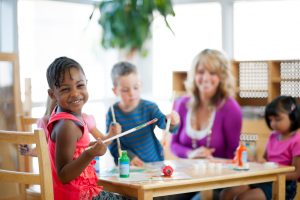 Head Start grantees will soon receive new funding to expand the school day for low-income children around the country. The Office of Head Start announced on Tuesday that it will distribute $290 million to 665 Head Start and Early Head Start programs around the country to expand their full-day, full-year offerings in follow up to Congress acting on the need to invest in the most vulnerable children by providing this funding.
By extending the Head Start day, more children will have the opportunity to access full-day, full year high-quality early learning without disruption to their continuity of care. The supplemental funds would go towards increasing the number of annual hours that center-based and family child care centers can provide, including additional staff or facility upgrades for programs that are currently running double sessions.
As EdWeek reported, the new funding targets grantees who currently have fewer than 40% of their slots operating on a full-day, full-year schedule. Under revisions of the new Head Start Program Performance standards, all programs will be required to offer full-day and full-year programs by 2021, and this funding supports progress towards full implementation.
The benefits for young children from low-income backgrounds are clear and abundant, and the supplemental funding opportunity would greatly benefit working families. With supplemental funding to extend Head Start hours, Head Start grantees can play a critical role in supporting the learning and development of young children from low-income backgrounds, in addition to supporting parents to both enter and remain in the workforce.
Read more about the grantees here.