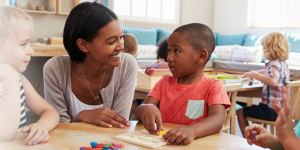 A new study from the National Institutes of Health (NIH) finds students who participated in an intensive early childhood program were more likely to achieve greater academic gains beyond high school.
Researchers obtained these results by following the 30-year progress of 958 students who attended the Child-Parent Centers (CPS) program in inner-city Chicago. The study found that CPS graduates were more likely to obtain higher academic degrees than their peers who attended other, often lower-quality early learning programs. Specifically, CPC graduates who attended the program through second or third grade had higher educational gains than their counterparts: associate's degree or higher (18.5%vs. 12.5%), including a bachelor's degree (14.3% vs. 8.2%) and master's degree (5.9% vs. 2.3%).
"This study suggests that a high-quality, early childhood intervention program, especially one that extends through third grade, can have benefits well into adult life," said James A. Griffin, Ph.D., deputy chief of the Child Development Branch at the Eunice Kennedy Shriver National Institute of Child Health and Human Development (NICHD).
According to the NIH, this study is the first to follow participants past age 25, a time in life when many people attain advanced degrees. Their previous research has shown that CPC graduates have gone on to have higher incomes, lower rates of serious crime and incarceration and lower rates of depression, compared to those who participated in other early interventions.
Read the full NIH study here.