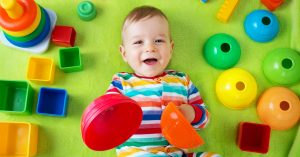 The early years matter. In fact, just last week the Harvard University Center on the Developing Child released new research showing that significantly more neural connections are made in the brain during the early years of life than previously thought. The Center's Dr. Jack Shonkoff and his team had previously found that the brain makes 700-1000 new neural connections per second in the first few years of life. However, the Center's new research has now found the number to be over 1 million connections per second.
Brains are built and grow through touch, talk, sight and sound in early childhood experiences. This experiential learning starts long before a child steps foot into kindergarten and, is strengthened through regular interaction and stimulation in the home and in quality early learning settings. Children who receive quality early education demonstrate greater cognitive and socio-emotional growth than children who do not.
Learn more about early brain architecture and the importance of early childhood development and learning here.