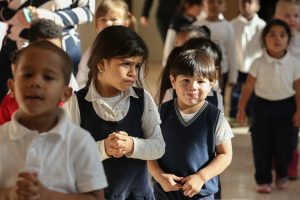 States and communities across the country are leading the way in providing early childhood education and development opportunities for young children, including preschool.
Today the National Institute for Early Education Research (NIEER) released its annual State of Preschool report, which this year finds the number of 3- and 4-year-olds in state-funded classrooms rose slightly during the 2014-15 school year.
As Education Week's Lillian Mongeau reports:
The 42 states with public preschool programs and the District of Columbia spent $6.2 billion to serve 1.4 million 3- and 4-year-olds in the 2014-15 school year. Total enrollment increased by a single percentage point, from 28 percent to 29 percent of 4-year-olds and from 4 percent to 5 percent of 3-year-olds, since 2010.
For the first time this year, NIEER also reported on support for young dual-language learners and the early-education workforce. Broadly, only a few states track and actively support children who speak a language other than English at home. And preschool teachers nationally are paid nearly $12,000 less than elementary school teachers even when employed at public schools. For non-public school-based preschool teachers, the difference in salary is more like $27,000.
In December, Congress included in the Every Student Succeeds Act (ESSA) a new Preschool Development Grants program, which provides competitive grants, managed by the Department of Health and Human Services, for states to improve coordination, quality, and access for early childhood education for low- and moderate-income children from birth to age five. The program aims to increase parent choice and includes a focus on supporting high need and rural communities.
You can read more about the NIEER report on the organization's website.