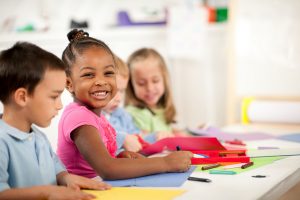 Chicago, New Jersey, North Carolina, Delaware, Georgia, Boston, Utah and Pennsylvania—look across the country and you'll see cities and states doing what a handful of naysayers claim to be impossible: implementing high-quality early childhood programs and producing better education outcomes for children. As these innovative programs mature, research consistently shows that they deliver results.
Adding to the evidence is a new study by Deborah Phillips, a renowned Georgetown University developmental psychologist who has been tracking the social and academic progress of children who attended Tulsa, Oklahoma's high-quality preschool program. While we await the study's official publication, Phillips' findings were recently featured on NPR.
NPR's story revolves around Jose Arriaga, a former preschool attendee who is now a straight-A student entering the 9th grade at Booker T. Washington High School, a top school in Tulsa. Jose, his mother and his elementary school teachers credit preschool for much of his later success in school. Jose claims that kindergarten and first grade were easier because he knew how to count and read.  His elementary school teacher, Lisa Williams, backs that up, mentioning that Jose earned very good grades despite being an English language learner.
Jose's success isn't an isolated case. Phillips compared the social and academic progress of 8th graders who attended Tulsa's preschool program with peers who received no preschool at all. Those who received preschool outperform those who didn't in areas such as grades, student mobility, special education attendance, advanced education attendance, retention, absenteeism and attitudes about school.
While academic achievement is important, Phillips points to early social and emotional development as one of the key drivers. The nurturing, developmental approach of Tulsa's preschool program provided children with the desire to be engaged in school, the confidence to speak up in the classroom and the motivation to be attentive.
We can add Dr. Phillips' Tulsa study to the growing body of research providing overwhelming evidence that quality early childhood education delivers better outcomes for children, schools and taxpayers. We know what works: parental involvement, a curriculum that focuses as much on social and emotional development as it does on foundational academic skills, professional teachers and staff, adequate funding, and K-12 schools that value preschool and are committed to building upon the foundation of early learning.
It's time to put this to work for more children. Now, more than ever before, we can invest in quality early childhood education programs with great confidence in the results.