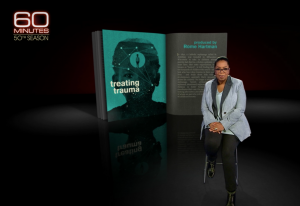 Last week on CBS' "60 Minutes," Oprah Winfrey reported on childhood trauma, and the emotional, developmental, and biological impact it has on a person for the rest of his or her life.
"Of all the stories I've ever done in my life, and all the experiences I've ever had, and people I've interviewed," Oprah later told CBS News, "this story has had more impact on me than practically anything I've ever done. It's changed the way I see everyone."
Oprah spoke with Dr. Bruce Perry, a renowned American psychiatrist, leading expert on childhood trauma, and pioneering advocate for quality early childhood education.
"That very same sensitivity that makes you able to learn language just like that as a little infant makes you highly vulnerable to chaos, threat, inconsistency, unpredictability, violence," Dr. Perry said in the interview. "And so children are much more sensitive to developmental trauma than adults."
In the segment, Winfrey also highlighted the "ACE test," which asks individuals about the number of Adverse Childhood Experiences they had.
"For anyone, a high score on the ACE test is a powerful predictor of physical and mental problems down the road. According to the Centers for Disease Control, it makes you five times as likely to be depressed and can cut your overall life expectancy by as much as twenty years."
Brains are built and grow through touch, talk, sight and sound in early childhood experiences. This experiential learning starts long before a child steps foot into kindergarten and is strengthened through regular interaction and stimulation in the home and in quality early learning settings.
During the first five years, a child's brain is at its most flexible, making this a critical period for learning and growth. Science tells us that children who face adversity in the first years of life, especially those in low-income households, are more at risk for experiencing damage to their brain architecture, which can lead to lifelong problems in learning, behavior, and physical and mental health. Prevention through high-quality early learning and care provide the support children need to build a foundation for a healthy and productive future.
In a 2004 lecture on maltreatment in the developing child, Dr. Perry spoke at length about the need to invest more in high-quality early childhood education as a way to help children overcome trauma:
"At a time when the brain is most easily shaped – infancy and early childhood – we spend the fewest public dollars to influence brain development. However, expenditures on programs designed to change the brain dramatically increase for later stages of development – mental health, substance abuse or juvenile justice interventions. Investing in high-quality early childhood programs could avoid the expensive, often inefficient or ineffective, interventions required later."
Learn more about the importance of investing in quality early childhood education for children living in poverty here.