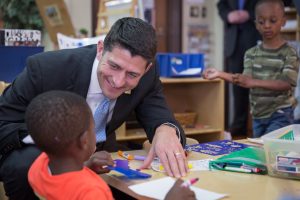 U.S. House Speaker Paul Ryan recently visited Tulsa Educare to tour classrooms and speak with a group of local early education leaders. The school provides low-income families and their children with access to high-quality early childhood education and other important resources. Tulsa is home to three state-of-the-art Educare schools, which currently serve over 500 children and their parents with a range of educational and family engagement opportunities.
"Tulsa Educare, and programs like it, provide children with great educational opportunities," said House Speaker Paul Ryan. "The future success of our country is dependent on the education of our children, and we must continue to look for innovative programs to increase access for all students. Tulsa Educare is a great example of the work that can be accomplished when public and private entities join forces to help families and their children."
Recently Speaker Ryan and the House of Representative's Task Force on Poverty, Opportunity, and Upward Mobility released their vision and mission statement, proposing early childhood education as a policy reform option for breaking the cycle of poverty and promoting upward mobility in America. Specifically, the task force has proposed strengthening federal and state coordination in early childhood education and providing families with a variety of options.
While early childhood education is not the only solution to breaking the cycle of poverty, experts agree it certainly is incredibly effective and has many long-term benefits. Not only is the brain science extremely compelling, but economists, business leaders and law enforcement officials also agree that early childhood education and development for low-income children is one of the best ways to promote upward mobility in a way that pays off for individuals and society as a whole. Those who experience quality early care and learning have better education, health, social and economic outcomes in life.
The House Task Force has taken an important step in also recognizing the role that a high quality early childhood education and development plays in setting a child on the right path. The First Five Years Fund applauds these efforts and looks forward to working with the Task Force as they move forward with this important work.