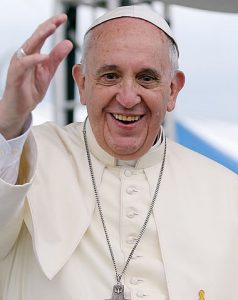 During his trip to the U.S. this week, Pope Francis will stop and visit with a range of churches, community organizations, and schools doing their part to support children of all backgrounds. Pope Francis' itinerary reinforces his recent commentary on poverty, in which he underscored our moral obligation to provide children around the world with the support and investments they need to lead successful lives.
Though our government continually debates the amount of funds and resources it allocates to early childhood outcomes, Pope Francis identifies investment in children as on one that must remain a top priority moving forward: "In a world where there is so much wealth, so many resources to feed everyone, it is unfathomable that there are so many hungry children, so many children without an education."
The Pope's visit presents a great opportunity to elevate discussion and consider early childhood issues beyond just an economic lens– rather one that focuses on our moral responsibility, as a community and a nation, to our children.
Already in his short tenure, Pope Francis ardently emphasized the importance of addressing child poverty. He believes this cause aligns with our obligation to live compassionately, saying, "A way has to be found to enable everyone to benefit from the fruits of the earth, and not simply to close the gap between the affluent and those who must be satisfied with the crumbs falling from the table, but above all to satisfy the demands of justice, fairness, and respect for every human being." Investment in early childhood reflects this very idea—that we must ensure all children, regardless of socioeconomic circumstances, have access to quality early learning.